Citigroup Said Poised to Get Bids for Japan Retail Bank
Takahiko Hyuga, Monami Yui and Shingo Kawamoto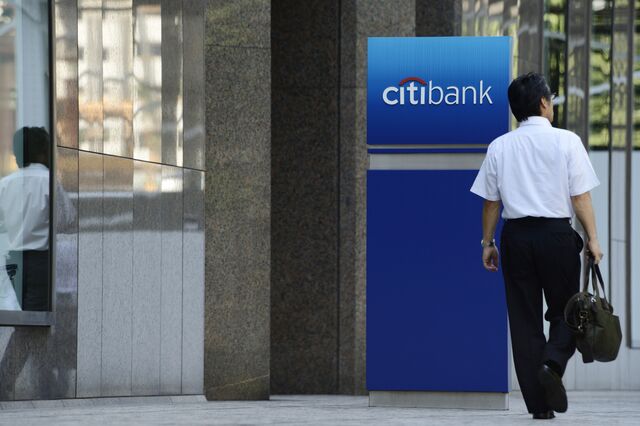 Sumitomo Mitsui Financial Group Inc. is among Japanese banks that are preparing to make final bids for Citigroup Inc.'s local retail banking operations by a deadline today, said people with knowledge of the matter.
Sumitomo Mitsui Trust Holdings Inc., Resona Holdings Inc. and Shinsei Bank Ltd. may also participate, said the people, who asked not to be named, citing confidentiality. As well as provide a price, the banks are being asked to explain their plans for branding, due diligence and employees, one of the people said.
Bidders may offer about 50 billion yen ($430 million) for the Japanese retail bank and credit-card businesses, according to the person. Citigroup may give the right of first refusal to a candidate as soon as the end of the month, the person said.
Citigroup is exiting 11 consumer-banking markets with poor returns, including Costa Rica and El Salvador. Sumitomo Mitsui, Japan's second-biggest bank by market value, and others are seeking to obtain business from wealthy clients and holders of the U.S. lender's Diners Club cards. Citigroup had 32 retail branches in Japan as of last month.
Elisa Fukui, a spokeswoman for Citigroup in Tokyo, declined to comment, as did spokesmen for the four banks. The Sankei newspaper reported the potential bidders on Nov. 1.
Shinsei Bank President Shigeki Toma told reporters last week that his company is weighing a bid.
Citigroup is in "active discussions" with several potential buyers, the New York-based bank said on Oct. 14. It decided to focus on corporate and investment banking, markets and transactions services in Japan, it said in a statement.
Years of deflation and monetary easing have left lenders in Japan with the lowest net interest margins in Asia. Citibank Japan Ltd. earned 1.34 billion yen in the year ended March, returning to profit from a net loss of 1.98 billion yen a year earlier, financial statements on its website show. It had 3.9 trillion yen in deposits as of June.
Before it's here, it's on the Bloomberg Terminal.
LEARN MORE