China Self-Publishing Company Said to Get Carlyle Money
Jonathan Browning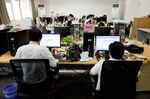 Carlyle Group LP agreed to invest in China's Cloudary Corp., which is planning to merge with the online literary business of Tencent Holdings Ltd., according to people with knowledge of the matter.
Cloudary plans to combine its interactive literary websites with Tencent Literature to create a business valued at about $2 billion, one of the people said, asking not to be identified because the information is private. Carlyle reached an agreement yesterday to invest in Cloudary, the person said.
Cloudary, which offers free and paid content on its websites, is controlled by Shanda Interactive Entertainment Ltd. and counts Goldman Sachs Group Inc. and Temasek Holdings Pte among its investors. The Shanghai-based company, which canceled plans for a U.S. initial public offering in 2013, was valued in July last year at $600 million, people familiar with the matter said at the time.
The company plans to bring in a new private investor, spokeswoman Jin Yang said yesterday without naming the buyer. She denied a report by Sina.com that Tencent planned to buy Cloudary. Jin today declined to comment on whether Carlyle will invest. Spokesmen for Carlyle and Tencent declined to comment.
Tencent, Asia's second-largest Internet company by market value, said in April it planned to expand its literary website unit, which provides novels and a platform for fiction writers - - including amateur novelists -- to showcase their work online. The company has merged its e-commerce sites with JD.com Inc. to better compete with Alibaba Group Holding Ltd.
'Naked Wedding'
Cloudary has licensed the film, television and video-game adaptation rights to some amateur novels published on its platforms and set up a joint venture in 2011 to develop its own scripts. One of its literary works was used for the reading test on China's college entrance exam in 2008, according to a June 2012 filing with the U.S. Securities and Exchange Commission.
"Naked Wedding--Marriage of the 80s Generation," a story about a young Chinese couple with no assets who married out of love, originally appeared on a Cloudary website in 2009 before being turned into a hit television series two years later. A comedic novel about a workplace romance, titled "My Boss is a Beautiful Girl," was developed into a movie in 2010 after being published on a Cloudary platform, the filing shows.
Online Classifieds
With the Cloudary deal, Carlyle is partnering with a unit of Shanda Interactive after it pulled out in September from an offer to take the company's Shanda Games Ltd. subsidiary private. The acquisition marks Carlyle's second deal in the Chinese Internet industry this year, after it led a group of investors that bought a $200 million stake in online classified advertising provider Ganji.com in August, data compiled by Bloomberg show.
Cloudary accounts for 72 percent of China's original literature content, according to its website. The nation's online literary business is expected to grow to 7.3 billion yuan ($1.2 billion) by 2015, from 2.8 billion yuan in 2012, according to Beijing-based consultancy Enfodesk.
Before it's here, it's on the Bloomberg Terminal.
LEARN MORE