Yuan Bears Say Record Dollar Debt to Fuel Decline: China Credit
Lilian Karunungan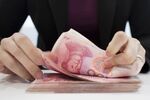 Yuan bears have added Chinese companies' record dollar borrowings to the list of reasons why the currency may weaken.
Chinese firms raised $203 billion from loans and bonds this year, 11 times more than the $17.7 billion of 2008, data compiled by Bloomberg show. Societe General SA, Daiwa Capital Markets and Royal Bank of Canada predict the yuan, which is headed for its first annual decline in five years, will drop further in coming months as the outlook for rising U.S. interest rates and a weakening Chinese economy expose the risk of overseas liabilities.
The People's Bank of China engineered a 2.6 percent decline in the yuan in the first quarter to cut one-way bets on the currency and prepare companies for the risk of exchange-rate weakness. Daiwa Capital Markets estimates that, in addition to foreign-currency borrowing, $1 trillion of hot money has flooded into China since the Federal Reserve started quantitative easing in 2008, including through shadow-banking channels such as export financing and metals purchases.
"Leverage does place China in the higher risk category in the Asian region," Sue Trinh, a senior currency strategist at Royal Bank of Canada in Hong Kong, said by phone yesterday. "China is making continued progress in reducing reliance on credit and in particular the shadow-banking sector," she said, adding that the effort "will likely limit the extent to which the yuan will be able to gain."
Yuan Gains
The Chinese currency rose 2 percent in the past six months to 6.1158 per dollar as of 12:22 p.m. today, paring this year's loss to 1 percent. A record $105.5 billion slide in foreign-exchange reserves in the third quarter indicates large capital outflows and the possibility that the central bank intervened to defend the currency, according to reports by AllianceBernstein LP and Credit Agricole SA issued Oct. 31.
RBC's Trinh predicts the yuan will decline to 6.20 per dollar by the end of 2015, while Societe General estimates a drop to 6.18 by end-December. The median estimate of strategists in a Bloomberg survey is for levels of 6.10 by the end of this year and 5.98 by end-2015.
Daiwa sees the yuan falling to 6.60 per dollar by the end of next year on the risk of hot money leaving China as the Fed tightens, Kevin Lai, a senior economist in Hong Kong, wrote in an Oct. 27 report. Fake export-invoicing that inflates China's trade data and disguised foreign investment also form part of short-term speculative flows into China, he said.
"We see the odds of more rapid outflows going into next year, if the Fed finally begins to tighten and withdraw liquidity from the system," Lai wrote in the report. Daiwa estimates that China's total foreign debt, mostly in U.S. dollars, has risen by $517 billion since quantitative easing started, to $907 billion as of June 2014.
Volatility, Hoarding
Concern that the PBOC may instill volatility in the currency is already causing borrowers of dollar-denominated debt to hold on to their foreign exchange, according to Anthony Chan, Asian sovereign strategist at AllianceBernstein, which oversees $473 billion globally. Three-month implied volatility in the yuan has risen to 2.29 percent from a four-year low of 1.1 percent on Feb. 18, while the PBOC in March doubled the currency's daily trading brand to 2 percent on either side of a daily reference rate.
"After this year's yuan depreciation, combined with increased volatility and the widening of the yuan's official trading band, the fear factor has stuck," Hong Kong-based Chan said in a Nov. 5 e-mail interview.
Corporate Leverage
Corporate leverage in Asia, largely driven by China, may be reaching worrying levels as more companies turn to offshore borrowing to take advantage of low rates, according to an Oct. 31 report from Bank of America Merrill Lynch economists led by Singapore-based economist Chua Hak Bin.
Chinese corporate debt swelled to 124 percent of gross domestic product in the second quarter of 2014 from 110 percent in 2009, the U.S. lender estimates. That compares with 115 percent for the whole of emerging Asia. Mainland entities issued more bonds overseas after policy makers tightened borrowing onshore, according to the Asian Development Bank.
The U.S. currency's share of bonds issued by Chinese entities has risen to 14 percent this year from 2.4 percent in 2008, data compiled by Bloomberg show. The yield premium on three-year Chinese government bonds over Treasuries has narrowed 131 basis points this year to 234 basis points.
"The dollar exposure of Chinese corporates will increase because it's still cheaper in U.S. dollars and they get longer-term funding than they would have been able to get in the onshore market," Christopher Lee, Hong Kong-based managing director of corporate ratings at Standard & Poor's Plc, said in a Nov. 4 phone interview. He added that dollar-denominated debt comprises a small portion of total borrowings.
Slowing Economy
Economic expansion slowed to 7.3 percent in the third quarter, the least since 2009. Consumer prices increased 1.6 percent from a year earlier in September, the smallest gain in more than four years.
Trade data suggest fake exports to Hong Kong are being used to obtain dollar financing. China recorded $1.56 of exports to Hong Kong in September for every $1 in imports the city registered, leading to a $13.5 billion difference, according to government data compiled by Bloomberg. Hong Kong's imports from China climbed 5.5 percent from a year earlier to $24.1 billion, figures showed Oct. 27. China's exports to Hong Kong surged 34 percent to $37.6 billion, according to mainland data on Oct. 13.
Metals Probe
Investigators in China discovered almost $10 billion in fraudulent trades on copper going back to April 2013, while a seven-fold increase in precious-metals exports to $10.8 billion in September from $1.39 billion a year ago prompted a probe as the government intensifies scrutiny of irregularities in the country's trade figures.
The risk posed by the surge in U.S. dollar borrowings cannot be underestimated as China's financial system may go through periods of stress when bad loans rise quickly, Aaron Low, principal of San Francisco-based emerging-market fund Lumen Advisors LLC, said in a Nov. 5 e-mail interview. The data on foreign-exchange debt don't take into account mortgage exposures by individuals who cannot easily hedge, he said.
"The reason why the PBOC may intervene is to flush out speculative borrowing in dollars," Low said. "The growth in dollar financing needs monitoring."
Before it's here, it's on the Bloomberg Terminal.
LEARN MORE