Why Obama's Courtship of Myanmar Backfired
By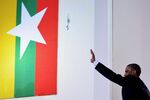 On Nov. 11, President Obama will travel to Myanmar for the ninth East Asia Summit, a meeting of leaders from across the Pacific Rim. It will be the president's second trip to a country that, for decades, was seen as a pariah in Washington, run by a brutal and xenophobic military regime that gunned down protestors in the streets and jailed opposition leader Aung San Suu Kyi. In 1997, the Clinton administration signed a law barring new U.S. investment, and the George W. Bush administration made the sanctions even tougher.
Coming into office, the Obama administration concluded that a hard-line policy toward Myanmar had failed – failed to advance political and economic change, and failed to serve U.S. strategic interests in Asia. Obama eased sanctions on Naypyidaw and encouraged U.S. companies to plunge into the country, among other steps.
When Obama visited for the first time, in 2012, optimism about the future – of Myanmar politics, of Myanmar as a market, and of U.S.-Myanmar relations — was almost unbounded. The new government had scheduled elections for 2015 and released Suu Kyi from house arrest. Myanmar President Thein Sein had freed hundreds of political prisoners, signed cease-fire deals with the ethnic minority insurgencies that had fought the government for decades, and loosened restrictions on the domestic media environment.
With an untapped consumer market of 50 million people, and sizable natural resources, Myanmar appeared to be one of the most promising emerging markets in the world. By launching closer relations, the United States also was, supposedly, denying China a greater foothold in Asia and gaining a partner in an important strategic location. As Obama declared in Myanmar in 2012, "I've come to keep my promise and extend the hand of friendship." The president concluded by gushing that Myanmar's reforms would "become a shining North Star for all [of Myanmar's] people."
But only two years later, Obama arrives in a country where optimism– among Myanmar democrats, local and foreign companies, and even many in the U.S. government who are focused on Myanmar – has dimmed to black. Myanmar's political and economic climate has gone sharply backward. The country's infrastructure, courts, and permitting remain so disastrous that most U.S. investors, after making initial fact-finding visits to the country, are giving Myanmar a wide berth. Worst of all, Myanmar was never the strategic gem it appeared to be, and expending considerable U.S. diplomatic resources wooing the country took time and money away from other, more important places – a dangerous mistake at a time when the United States is stretched around the world.
There were several reasons why the Obama administration placed a priority on rebuilding ties with Myanmar. Myanmar seemed, to some administration officials and Southeast Asia observers, to be a place where the United States and China now were competing directly. For over a decade, many large U.S. companies had lobbied the U.S. government to remove sanctions, precisely because they believed the country was a promising emerging market. Some Southeast Asia observers, both within and outside the administration, also viewed Myanmar as a country of increasing strategic importance because it sat in the middle of a growing network of road, rail, and sea links tying together Asia.
The Obama administration also hoped that renewed relations with Myanmar would deliver a broader foreign policy victory. Several administration officials suggested that if the "extend a hand" approach worked with former Southeast Asian pariahs like Myanmar, perhaps similar types of U.S. interaction would work with longtime antagonists like Cuba or Iran or Russia.
Many of these rationales for engaging with Myanmar have proven seriously flawed. Myanmar is too obscure, and too different, from powers like Iran and Russia, to make any difference in Washington's relations with these other nations. The argument that Myanmar's location makes it of critical strategic importance has not been borne out over the past five years, either. Myanmar remains a country with a tiny economy and one with little to contribute to regional defense. The Mekong River is not a waterway important to U.S. trade or to U.S. defense strategy. Total annual U.S. trade with the Mekong River countries excluding Thailand is less than U.S. bilateral trade with Belgium.
The focus on Myanmar has not only delivered few strategic benefits but also distracted U.S. leaders' time and attention from other more important regions and issues in Asia. Trade integration offers one example. Senior U.S. leaders have spent little time publicly advocating—to Asian nations or to the American Congress and public—the benefits of the Trans Pacific Partnership regional trade agreement. Partly as a result, many senior congressional Democrats already have publicly stated they will not support the TPP if it comes to a vote in Congress, undermining Asian nations' desire to cooperate with TPP negotiations. By contrast, Obama, former Secretary of State Hillary Clinton, and current Secretary of State John Kerry have expended considerable time and energy personally lobbying congresspeople to lessen sanctions on Myanmar and approve new diplomatic and military ties to Naypyidaw.
The idea that Myanmar would become an economic paradise has proven fantastical as well. The country has significant quantities of offshore oil and gas, copper, precious stones, timber, and other natural resources, and the penetration rate for basic consumer goods like cars, mobile phones, and household appliances remains low by regional standards. But Myanmar's opaque policy-making and the threat of renewed conflict between the government and ethnic insurgencies already has dampened potential investors' enthusiasm for the country, even in the long-term. (Offshore oil and gas is an exception; foreign investors have remained highly interested in Myanmar's offshore blocks.) As the Wall Street Journal reported in August, despite the relaxation of U.S. sanctions on Myanmar, U.S. companies have committed less than $250 million to investments in the country of fifty million people. In contrast, U.S. companies have invested over ten times as much in Luxembourg, a country of roughly 500,000 people.
Myanmar  is hardly blooming into a democracy. Since early 2013, political and economic reform has stopped. The military has not left power, as some once predicted. Instead, the army has written a constitution that ensures the military maintains de facto control of parliament and other institutions, reserving twenty-five percent of seats in the legislature for army men. Meanwhile, foreign diplomats and many Myanmar analysts warn that the army is working to undermine the 2015 elections by buying off voters and training thugs to strong-arm people into voting for the military's preferred party.
Worst of all, the military allegedly has been involved in the rise of Buddhist paramilitary groups that have terrorized Muslims in western Myanmar's Arakan State, leading to one of the worst humanitarian emergencies in the world, with over 100,000 internally displaced people living in squalid camps that have been called open-air prisons by the Arakan Project, an NGO that documents human rights in Arakan State.  The government has mostly tried to ignore the looming crisis in western Myanmar; when Medicins sans Frontieres revealed one brutal massacre of Muslims in the west that allegedly included beheadings of children, the government tossed MSF out of western Myanmar. For her part, Aung San Suu Kyi, who spent decades under house arrest for trying to uphold human rights, has likewise avoided criticizing the Buddhist paramilitaries.
Myanmar's regression into thuggish and chaotic rule will harm the lives of Myanmar people. But the country's regression from freer politics and freer economics also will hurt the strategic interests of the United States and of other democracies. Hybrid or authoritarian governments are more likely to face prolonged internal conflict or even civil war than democracies. Countries that sustain democracy, too, tend to be more stable in their growth rates, even when those rates over time are roughly equivalent to authoritarian peers. More specifically, Myanmar's continued instability will make it difficult for Naypyidaw, which is consumed with its domestic problems, to provide any substantive cooperation to the United States on any issues of importance to Washington.
Nonetheless, the Obama administration is plowing forward with its rapprochement with Myanmar. Despite the country's increasing descent into chaos, the White House is restoring military-to-military ties with Myanmar, and has invited Myanmar army officers to join Cobra Gold, the annual U.S.-led multilateral military exercise that is the largest of its kind in Asia. President Obama may not offer as sunny a speech on his arrival in Myanmar next week as he did in 2012, but he has not backed out of his trip, a signal that many Myanmar leaders have taken as a sign of continued support.
Perhaps, as several Obama administration officials have privately admitted, the White House continues wooing Myanmar for reasons having much more to do with Washington than with any Asian strategic calculus. Once the Obama administration had committed to building ties Naypyidaw, it would have looked bad politically for the White House to halt the process or to slow it down. After all, the administration has expended considerable political capital convincing Congress and many human rights organizations to support rapprochement with a government that only a few years earlier had been massacring monks and that had not really reformed its military. Admitting now that the White House had been wrong about Myanmar, apparently, just simply is not an option.
Before it's here, it's on the Bloomberg Terminal.
LEARN MORE