H&M Embraces Lower Profit Margins
By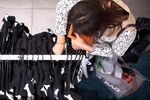 Karl-Johan Persson is the 39-year-old chief executive officer of H&M, the Swedish company that's trying to remake fast fashion after profiting handsomely from it for years. Persson's grandfather founded the company in 1947. Now it's the second-biggest apparel retailer in the world after Inditex, which owns Zara.
"We want to offer low prices and good quality," Persson said at a conference in New York on Thursday. Conventional wisdom has been that it's one or the other. H&M has settled on a different way: It's not raising prices. It's absorbing the costs of using organic cotton for some items, paying higher wages for some garment workers in places like Bangladesh, and ensuring that working conditions in factories are safe. "Not that many customers are willing to pay more," Persson said, "so our margins are being affected."
Persson didn't get specific, but the latest results show the company's profit margin is getting smaller. It was 13.34 percent in 2013, and it's estimated to fall to 13.29 percent this year and 13.26 percent in 2015, according to data compiled by Bloomberg. Those declines are noticeable but not worrisome. The company's stock price has increased about 30 percent since last year. This is a long-term plan, though, and H&M's biggest expenses are still to come. "We have to stand up to the pressure from investors and analysts," Persson said.
Persson made sure to note, however, that he wants H&M to stay competitive in a competitive industry. He's not calling for less consumption (as Patagonia does). "Consumption is good," he said. "Consuming less of everything could have bad consequences for the economy. But we want people to consume from responsible companies."
As Persson was speaking, there was a lot of consumption going on at H&M. Its collaboration with designer Alexander Wang arrived in stores and online this morning. Much of the collection—including fake leather "fitness gloves" that look like boxing gloves ($59.95) and wool-blend biker jackets ($199)—sold out online within hours. "That makes us happy, too," Persson said.
Before it's here, it's on the Bloomberg Terminal.
LEARN MORE