The Election is Over and Guantanamo is Back
The detention facility at Guantanamo Bay is rebounding as a political issue.
By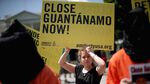 What does President Barack Obama want Congress to read into the fact that his administration waited until the day after the midterm elections to release one of the longest-held Guantanamo Bay prisoners? 
Absolutely nothing, say White House officials, emphasizing that Fawzi al-Odah's release to Kuwait has been long planned, with a review board paving the way over the summer by determining he was not a terrorist leader and had little training, and Congress getting a 30-day notification.
But Guantanamo, where 148 detainees remain, is rebounding as a political issue for three reasons. First, some additional detainees cleared for release are likely to be sent back to their home countries before year's end. Second, restrictions on detainee transfers may be revisited later this month when Congress debates the National Defense Authorization Act in the lame-duck session.
And third, the president made pretty clear in his post-midterm news conference that even though Republicans won the Senate and will now control both chambers of Congress, he's going to push for his priorities and test the limits of his executive powers when lawmakers won't act. One of his first acts in office in 2009 was signing an order aiming to close Guantanamo within a year, but Congress has blocked him from moving detainees to the U.S. and some of the detainees can't be released.
The Center for Constitutional Rights, which represents detainees and their families, said in a statement that "fear mongering over transfers reached a fever pitch over the last weeks leading up to the election, but perhaps now we can look at the facts," and noted that 79 of the 148 detainees have been cleared for release but are still being held. Senator Kelly Ayotte of New Hampshire, a Republican, isn't seeing those facts the same way. She said the latest transfer is "another dangerous example of the Obama administration's misguided motivation to empty and then close Guantanamo rather than protect the national security interests of the United States."
Patrick Ventrell, a spokesman for Obama's National Security Council, said national security is precisely what's driving the president's thinking. "The continued operation of the Guantanamo Bay detention facility poses profound risks to our national security and must be closed," Ventrell said. "The American people should not be spending hundreds of millions of dollars a year on a facility that harms our standing in the world, damages our relationships with key allies and emboldens violent extremists."