Neel Kashkari's 12-Page 'Reflections' on His Losing Campaign in California
By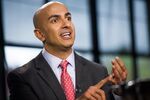 How do you put a positive spin on losing by almost 18 points? That's the challenge California's Republican gubernatorial candidate, Neel Kashkari, faced this week after voters reelected Democrat Jerry Brown for a fourth term. Kashkari, the former bailout czar turned investment manager, summarized his "reflections" in a 12-page report that ultimately blames Republican donors for essentially writing off the Golden State.
Under the title "Lessons from the Trail," Kashkari likens his decision to run to that of "the ancient explorer Hernando Cortes, who famously burned his ships to motivate his men." Kashkari left the business world to run as a data-driven moderate with focus on core fiscal issues, as Karl Taro Greenfeld wrote earlier this year for Bloomberg Businessweek. But the Republican faced an an uphill battle to distinguish himself from Brown, who was credited with having improved the state's finances with surprising austerity for a man of his liberal pedigree. Standard & Poor's upgraded California's credit rating just after voters approved a rainy day fund Brown had backed.
Kashkari's post-race reflections largely praised his campaign, with such observations as:
One of the best compliments I have received as a candidate is that I was always "on message'" and "From the earliest days of the campaign we adopted a strategy of 'embrace the press.' I wanted to be the most open, accessible and unfiltered candidate possible. … Overall I believe our strategy worked.
He cheered the "creative tactics" he used, offering a bullet point list of such stunts as his pretending to be homeless for a week while being trailed by a cameraman. That effort was hailed, by Kashkari himself, as the candidate's biggest social media success.
Publicity stunts could go only so far. "I earned more press coverage (largely positive) than probably anyone in California over the past two years other than Governor Brown," Kashkari wrote. "The earned media coverage of the race was largely unnoticed." Social media helped communicate with press and existing supporters but "did not prove very useful in introducing me to voters."
In the end, Kashkari regarded outside forces as his biggest problems. His performance in a debate with Brown was a "high point," but he said not enough people saw it because Brown's campaign "unilaterally negotiated debate parameters with the media sponsors," so it aired during the first NFL game of the season.
More than anything, Kashkari says he needed money to buy additional ads. "I didn't appreciate how important and how hard it would be to develop name recognition in a state of 38 million people," he said. He said the "hardest part" of the campaign was fundraising. "I did not anticipate the fatigue major Republican donors felt after very well-funded defeats in 2010 and 2012," he wrote.
He said he understood "many donors' reluctance to take on the most famous politician in California, Jerry Brown" but blasted them for not funding Republican candidates for other open statewide seats. It's "unclear," Kashkari wrote, what his loss means for Republicans in the state: "I know I was very well-received in virtually every community I went into." Donors, he said, just needed to give him the money to reach more of them.
Before it's here, it's on the Bloomberg Terminal.
LEARN MORE