Mitch McConnell Has Been Ready for His New Job Since 2006
What his last two chances at Senate majority leader tell us about how he'll lead this time.
By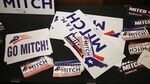 Mitch McConnell has been on the cusp of becoming the Senate majority leader three times.
In 2006, McConnell was the majority whip, and Senate Majority Leader Bill Frist was retiring to focus on a doomed presidential bid. "McConnell's skills behind the scenes have positioned him, at 64, to become the next Senate GOP leader after Frist retires from the chamber this fall," Kirk Victor at The National Journal wrote in June of 2006.
Senate Republicans voted unanimously to promote McConnell, but they lost the Senate in a midterm blowout much like the one Democrats suffered Tuesday.
In 2010, the first Republican wave of Barack Obama's presidency, the GOP's chances of taking back the Senate were thwarted, in part, by flawed candidates such as Delaware's Christine "I'm not a witch" O'Donnell and Nevada's Sharron Angle, both Tea Party favorites who beat establishment-backed candidates in the primaries. 
The third time was Tuesday, when Republicans flipped six Senate seats before midnight and McConnell decisively beat his Democratic challenger, Alison Lundergan Grimes.
Each time, the prospect of a GOP Senate has had its pros and cons for McConnell. Pro: This is the culmination of a decades-long political career. "It's his lifetime goal," former Senator Judd Gregg told The Hill this week. "He is a person of the Senate." McConnell rose to the leadership ranks because he enjoys the politics of the Senate, even when it means being as unpopular as he is. And he's good at it.
McConnell's majority won't be a commanding one, let alone a big enough majority to override an Obama veto. And within that majority he'll have to deal with the same far-right ideologies that derailed the party in 2010.
Senator Ted Cruz is already getting ready to rain on McConnell's parade. As Republicans celebrated their victory, he still refused to say whether he supported McConnell as majority leader. "That will be a decision for the conference to make next week," Cruz said Tuesday. There's been some speculation that Cruz wants the job for himself, but according to Susan Davis at USA Today, he's not interested:
(Or, put another way, he knows he wouldn't stand a chance.)
But McConnell's biggest problem—besides Cruz and the rest of the far right—will be proving that a Republican Senate can actually lead. For McConnell's reign to be considered successful, the GOP will have to reach out to the White House and get things done. If the 114th Congress is just as unproductive as the 113th Congress, then what was the point?
Historically, McConnell has symbolized Republican opposition to Democrats' agenda, a reputation that precedes the Obama presidency. "If the past is any guide, Majority Leader McConnell will focus only on measures that support Republican power or drive a wedge between Democrats, and will do everything possible to keep campaign dollars flowing to the GOP," read a 2006 Washington Monthly cover story.
Four years later, in an interview with The National Journal, McConnell said "the single most important thing we want to achieve is for President Obama to be a one-term president."
Democrats would later use this quote to argue that Republicans were against Obama from the beginning, but McConnell said in the same interview that "I don't want the president to fail; I want him to change." That semi-open approach was evident in the way he addressed Obamacare—he said he was willing to work with a president who'd meet him halfway on health care while leading Republicans in a unified front against any bipartisan support for the law.
Earlier this year at a closed-door donor meeting, McConnell promised to attach riders to appropriation bills to force concessions on health care, the Environmental Protection Agency and other policies matters. That's the McConnell Senate Republicans nominated in 2006—someone with an encyclopedic knowledge of the way the Senate works, who'll use that political skill to advance the GOP agenda.
But publicly, McConnell is trying to be less antagonistic. In an interview with Time magazine, this time he said his top priority was to "get America back to work" and "see what kind of things we might be able to agree on with the President." During a press conference held Wednesday afternoon, he promised that his Senate would be productive, and possible work on Fridays. "The Senate needs to be fixed," he said. "The American people have changed the Senate so I think we have an obligation to change the behavior of the Senate."
In that same speech, he listed Obamacare's individual mandate—a key part of the health care law—as an issue both sides might agree on repealing.
In other words, compromise isn't out of the question, an idea he shared during his victory speech on Tuesday. "I don't expect the president to wake up tomorrow morning and view the world any differently than he did this morning," McConnell said. "He knows I won't either. But look, we do have an obligation to work together on issues where we can agree."