Lenovo Says 'Hypergrowth' in China Smartphones Ending
Bloomberg News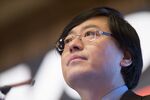 Lenovo Group Ltd. said the era of "hypergrowth" is over in China's smartphone market after the company reported its slowest sales growth in six quarters.
Shares fell to their lowest since June 24 on an intraday basis after Lenovo's revenue rose 7.2 percent in the three months ended September, the smallest increase since March 2013 and missing analysts' estimates. Lenovo is the biggest decliner today on Hong Kong's benchmark Hang Seng Index.
Chief Executive Officer Yang Yuanqing has expanded in computer servers and mobile phones, including the $2.91 billion purchase of Motorola Mobility, to help combat a shrinking personal-computer market. Growth in China is slowing amid intensifying competition from local smartphone producers, including Xiaomi Corp., which surpassed Lenovo and became the third-biggest global vendor in the quarter ending in September.
"The industry is changing from in the past, when China grew much faster than the rest of the world," Yang said in an interview. "The market is changing and China will not see further hypergrowth."
Lenovo shares fell 5 percent to HK$10.24 as of 10:21 a.m. in Hong Kong, adding to a 5.1 percent drop yesterday that was the biggest decline since Feb. 4.
Chinese producers have packed high-end features into cheaper smartphones to drive growth. Lenovo boosted global smartphone shipments by 38 percent in the quarter to 16.9 million units, ranking it fourth behind Samsung Electronics Co., Apple Inc. and Xiaomi, researcher International Data Corp. said Oct. 29.
Xiaomi, Samsung
Lenovo fell to third in China, trailing Xiaomi and Samsung, according to researcher Canalys.
Smartphone sales in China are projected to hit 426 million units this year, compared with about 214 million two years ago, according to a forecast from International Data Corp. That blistering pace is projected to cool in coming years.
"Shipments have slowed down and will gradually trail off to single digit growth in the next few years," Kiranjeet Kaur, a Singapore-based analyst at IDC, said in an e-mail.
Lenovo's sales in the quarter were $10.5 billion, compared with the $11.3 billion average of 16 analyst estimates compiled by Bloomberg.
Second-quarter net income rose 19 percent to $262.1 million, beating the $259.8 million average of 12 analyst estimates compiled by Bloomberg, as Yang took advantage of Lenovo's expanding scale to boost profit at more than twice the pace of sales.
PC Consolidation
"Seems like a very good cost control even in the face of weaker revenues," Alberto Moel, a Hong Kong-based analyst with Sanford C. Bernstein & Co., said in an e-mail. "The company is focusing on margin expansion, which they achieved well."
Yang said he isn't worried that Lenovo is stuck in a period of slowing growth with just-completed IBM and Motorola deals to provide a boost to sales. The addition of Motorola, which was completed after the end of the quarter, would have lifted Lenovo to third place in global shipments, according to the IDC figures.
Even in the traditional PC business, Lenovo can continue to take advantage of industry consolidation to expand sales, Yang said in the interview.
While industrywide global PC shipments fell 0.5 percent in the three months that ended in September, Lenovo posted an 11.4 percent increase, researcher Gartner Inc. reported last month. Lenovo's share of the market expanded to 19.8 percent from 17.7 percent a year earlier. Hewlett-Packard Co. was in second place with 17.9 percent, up from 17.1 percent.
Lenovo could expand its PC market share to 30 percent, Yang said without supplying a time frame.
"In the PC business, we still have the opportunity to grow the top line by growing market share," Yang said. "The industry will further consolidate. Less players can stay, maybe four or five. Definitely, Lenovo will be the winner in this industry."
Lenovo also said Jerry Yang, the co-founder of Yahoo! Inc., will become a director of the company, which has headquarters in Beijing and Morrisville, North Carolina.
— With assistance by Edmond Lococo
Before it's here, it's on the Bloomberg Terminal.
LEARN MORE