Former Univision CEO Promises $500 Million Art Collection to Lacma
by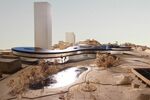 Jerry Perenchio, the former chairman and chief executive of Univision Communications, has promised his $500 million private collection of art to the Los Angeles County Museum of Art (Lacma). The bequest goes into effect after the donor's death, but there's a catch: The institution must first construct an ambitious new building, currently slated for completion in 2023.

The usually press-shy Perenchio has stepped out to encourage other collectors to donate and help support plans for the new museum, which is designed by Peter Zumthor, who won the prestigious Pritzker architecture prize in 2009. Earlier in the week, the Los Angeles County Board of Supervisors unanimously voted to approve public financing and $125 million for the sprawling, $600 million project, which would replace four aging structures from the 1960s and 1980s.
The proposed 410,000-square-foot structure is shaped like a water lily, with an organically curving glass facade. The main level will float 30 feet above the sidewalk, supported by seven "pods." The building is part of Lacma Director Michael Govan's strategy to elevate Lacma to the upper stratum of art museums. Goven has already embarked on a fundraising push to raise $100 million pegged to Lacma's 50th anniversary next year.

Perenchio is doing his part in bringing Lacma's mission into the spotlight by donating a valuable collection of 19th and 20th century works by the likes of Fernand Léger, René Magritte, Claude Monet, and Pablo Picasso. The 83-year-old California native developed an interest in art while touring museums with the British actor Charles Laughton as a young talent scout. He later started his own talent agency and, in 1981, bought Avco Embassy Picture Corp. for $25 million with the TV producer Norman Lear. He sold it to Coca-Cola in 1985 for $485 million.
Perenchio brokered another savvy deal with Univision, the Spanish-language TV network, which he and two partners bought for $550 million in 1992. They sold it in 2007 for $12.3 billion.
Before it's here, it's on the Bloomberg Terminal.
LEARN MORE