Boehner, McConnell Lay Out Their Plans
The Republican congressional leaders look to January.
By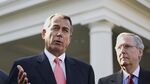 House Speaker John Boehner and likely incoming Senate Majority Leader Mitch McConnell vowed Thursday to bring about changes in the new Republican-led Congress, among them "renewing our commitment to repeal ObamaCare."
In a co-authored opinion piece in the Wall Street Journal, Boehner and McConnell wrote that they will work to revive bills passed in the House but not brought before the Senate. Plans include giving the go-ahead for the Keystone XL pipeline and reestablishing the definition of full-time employment as 40 hours, a distinction that was changed by the Affordable Care Act.
"Enacting such measures early in the new session will signal that the logjam in Washington has been broken, and help to establish a foundation of certainty and stability that both parties can build upon," Boehner and McConnell wrote. "Will these bills single-handedly turn around the economy? No. But taking up bipartisan bills aimed at helping the economy that have already passed the House is a sensible and obvious first step."
McConnell was reelected in Kentucky Tuesday in a surge of Republican wins that transferred power in the Senate away from the Democrats. Republicans also gained seats in the House, where they had already had a majority.