Auto-Parts Retailers, Dollar Stores Gain From Oil's Drop
David Wilson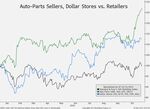 Auto-parts sellers and dollar stores may be in the best position among U.S. retailers to profit from falling oil prices, according to Scot Ciccarelli, an analyst at RBC Capital Markets.
As the CHART OF THE DAY shows, they have been standout stock-market performers this year within the retail industry. The chart shows how equally weighted indexes of stocks in each group compare with the Standard & Poor's 500 Retailing Index, which has been lower for most of the year.
Fuel costs "are essentially a 'flat tax' on consumers," which they must pay regardless of income, Ciccarelli wrote in a report yesterday. This means cheaper oil will have the biggest effect on lower-income households, the New York-based analyst wrote. As they spend more on items other than fuel, the auto-parts and dollar stores will be the "primary beneficiaries."
Ciccarelli recommends buying the shares of two parts sellers, Advance Auto Parts Inc. and O'Reilly Automotive Inc., and Dollar Tree Inc., which is seeking to combine with Family Dollar Stores Inc. in an $9.1 billion deal.
Advance Auto, O'Reilly and two other retailers, AutoZone Inc. and Genuine Parts Co., are represented in the parts index. Dollar Tree, Family Dollar and three other retailers -- Dollar General Corp., Five Below Inc. and Big Lots Inc. -- are in the dollar-store indicator.
Oil for December delivery dropped to a three-year low on the New York Mercantile Exchange two days ago. Although crude rose 1.9 percent yesterday to settle at $78.68 a barrel, the price was 15 percent lower than a year ago.
Before it's here, it's on the Bloomberg Terminal.
LEARN MORE