AstraZeneca Is Building Value Without Pfizer, CEO Says
Oliver Staley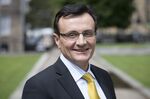 AstraZeneca Plc's stock has climbed to the price that Pfizer Inc. initially offered to buy the U.K. drugmaker, indicating the company can create value without a buyout, Chief Executive Officer Pascal Soriot said.
AstraZeneca closed at 46.20 pounds yesterday, roughly the price Pfizer offered Soriot and the AstraZeneca board when they first met in January to discuss a takeover, he said on a conference call with reporters today.
"The original price was 46 pounds and it was meant to be a premium," Soriot said. "Hopefully that shows the value we can make implementing our independent strategy."
AstraZeneca has posted three consecutive quarters of revenue growth and today raised its sales and earnings forecast for the second time this year.
AstraZeneca rejected Pfizer's final bid of 55 pounds a share in May, saying the company's pipeline of experimental drugs made it more valuable as a standalone company.
Under U.K. takeover rules, New York-based Pfizer can make another approach after Nov. 26. Soriot said he can't speculate on whether Pfizer will return. AstraZeneca, which will brief investors Nov. 18 on its strategy, anticipates "continued news flow over the next several months" that may further boost its share price, he said.
Pfizer had planned to move its tax domicile to the U.K. as part of the deal to save money on taxes, which Soriot had said was risky because the U.S. could crack down on such deals, which are known as tax inversions. The U.S. Treasury put new regulations in place in September to make inversions less attractive.
New Rules
Faced with the new rules, AbbVie Inc. abandoned its agreement to purchase Shire Plc. Soriot said today that AbbVie's takeover offer ultimately proved to be a costly distraction for Dublin-based Shire.
"It sends a strong signal that tax inversion risk is serious," he said. If Pfizer returns, AstraZeneca will listen, Soriot said.
"We will do what's right for our shareholders," he said. "We will consider any offer that comes to us."
AstraZeneca fell 2 percent to 45.27 pounds at 11:15 a.m. in London, giving the company a market value of about 57.1 billion pounds ($91.1 billion).
Before it's here, it's on the Bloomberg Terminal.
LEARN MORE