SAP's Bill McDermott on the Future of Business Software
SAP's chief talks about business software's future
By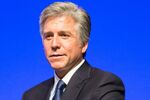 The CEO of SAP talks about his company's acquisition of Concur and the future of business software
Can you explain what's driving this move into cloud computing services?
If you talk to business travelers, one of their biggest complaints is that they can't stand travel and expense applications. With Concur, you have a business network where all of that interaction with food and hotels takes place in a frictionless way. The business traveler never has to fill out an expense report again.
So this is one example of how you can streamline technology?
Companies have focused on streamlining their operations within their four walls, but they haven't necessarily focused on the transactions between companies. I believe strongly that the business network is the next frontier in computing.
Amazon's Jeff Bezos says what really makes money is providing all the plumbing behind cloud computing services. Is that your model?
That's not what I want to do. But it's clearlythe Amazon model.
We'll have our own cloud. But we'll also partner with Amazon, Microsoft, and IBM in their clouds so our SAP business suite products get their due, and every small, medium, and large business in every industry around the world gets to run SAP.
How do you keep your team focused and motivated given the fast-changing tech environment?
The only way to keep people inspired is to make sure you're looking around corners for the next developments. Five years ago we knew we were the No. 1 business software and analytics company in the world. But the world was going mobile; it was going to the cloud. Now the big idea is moving the business network to the cloud. People get inspired when they see their leaders taking the company to a new frontier.


Before it's here, it's on the Bloomberg Terminal.
LEARN MORE