What We Got Right—and Wrong—About 2014
A look back at last year's look ahead
By and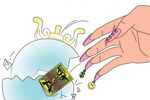 What we got right
Yes! Latvia Adopts the Euro
"There aren't many other events in 2014 that we can forecast with as much confidence as Latvia's scheduled adoption of the euro," we wrote. Latvia adopted the euro on Jan. 1.
Know Your REITs
Our experts said REITs focusing on nursing homes and senior housing, along with apartment REITs, would do well, while office REITs would lag. And that's how it played out. From Jan. 1 through October:
Apartment REITs: +29%
Health-care REITs: +21.3%
Office REITs: +12.4%
Bubbly Biotech
We cautioned that "with valuations at historic highs, the industry's bull run is looking frothy. Investors should brace for a correction, though not a 2000-like bust." The Nasdaq biotech index went through a sharp correction, falling 21 percent from Feb. 25 through April 14. In 2014, through Nov. 3, the index is up 29.6%. Hope you didn't panic-sell!
Banks Pay (and Pay and Pay) for Their Sins
We said to "expect a year of investigations, litigation, and settlements involving UBS, JPMorgan Chase, Deutsche Bank, Barclays, Citigroup, Bank of America, and other banks." That was on the mark. Global banks paid more than $50 billion to settle claims relating to mortgages, interest-rate setting, money laundering, and aiding tax avoidance.
Oil Slides on Shale
Edward Morse, Citigroup's global head of commodities research, saw that increased shale production was putting pressure on oil prices. "That's a dramatic development from things we have seen in the past and could mean oil prices heading lower than $90 per barrel," he said. On Nov. 3, the price was about $80 a barrel. That was a better call than the analysts' average we cited: $101 a barrel.
Apple Gives Mobile Payments a Boost
"After some false starts, the next revolutionary shift in payments is gathering momentum," we wrote. Paydiant co-founder Chris Gardner said consumers would be able to conduct half of their transactions with a phone in three to five years. That timetable seems more achievable after Apple announced its Apple Pay system with the rollout of the iPhone 6 in September.
Google Reaches New Heights
Evercore analyst Ken Sena correctly predicted Google's share price would climb from about $1,000 in the fall of 2013 to $1,100 this year. The company carried out a two-for-one stock split on April 3, so that target became $550—a level the stock passed in May. On Nov. 3, shares closed at $555.
What we got wrong
Too Down on Obamacare
Discussing the glitches at the federal health-care website, Aetna CEO Mark Bertolini said, "The younger, healthier people aren't likely going to give it more than one shot." Apparently, many did: The website's problems were fixed, and about 2.25 million people aged 18 to 34 signed up. Aetna stands firm: "We believe that the … rocky launch and ongoing delays discouraged the young and healthy."
Dimon Hangs on to the Reins
On the future of JPMorgan Chase Chief Executive Officer Jamie Dimon, we quoted Columbia Law School professor John Coffee: "For CEOs who can't put a battle with the government behind them, their board may decide someone else can." The bank remains under government scrutiny: On Nov. 3 it said it faces a U.S. criminal probe into foreign exchange trading. Even so, Dimon is still CEO. He's still chairman, too. And president!
A Whiff on Wonder Woman
Handicapping superheroes' futures, we said Wonder Woman had been shelved, and that the character "may see action if Warner Bros.'s Justice League film gets green-lighted." We underestimated her. Wonder Woman is now slated to appear in three films: Batman v Superman: Dawn of Justice (2016), Wonder Woman (2017), and The Justice League Part One (2017).
Detroit Comes Up Short
Chrysler, Ford, and GM will increase their share of the U.S. small-car market to 30.1 percent in 2014 (it was 19.7 percent in 2009), said consultant LMC Automotive. Close. LMC Senior Vice President Jeff Schuster explains: "The Detroit 3 are at 27 percent, so falling short slightly, as both the Focus and Dart have not hit our expected levels." We were close!

Before it's here, it's on the Bloomberg Terminal.
LEARN MORE