Mugabe's Ruling Party Says Nation in Desperate Situation
Godfrey Marawanyika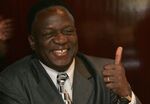 Zimbabwe's ruling party said factional infighting has caused the organization to lose focus on governing and may cost it support among the electorate, already suffering from an economic slowdown.
President Robert Mugabe's wife Grace, at political rallies last month, accused vice president Joice Mujuru of plotting against her husband and urged her to resign. Grace Mugabe is allied with Justice Minister Emmerson Mnangagwa, a rival of Mujuru to succeed the president, who is 90.
The Zimbabwe African National Union-Patriotic Front "has, over the last few weeks, concentrated on dealing with factionalism, which has caused unprecedented tension within the party," spokesman Rugare Gumbo said in a statement today. "Our focus had shifted from our core business as the party of the government."
Zanu-PF will hold elections for senior party positions at a conference next month. Grace Mugabe, who has no history in the party, has been nominated to head the Women's League, which would give her a seat on the policy-setting politburo.
"The economy is suffering at the expense of factionalism," Charity Manyeruke, the head of political science at the University of Zimbabwe, said by phone. "Local and foreign investors are having a torrid time because there is no harmony amongst the ministers."
Spending Plummets
The country suffered almost a decade of economic decline after 2000, when the government started seizing white-owned commercial farms, which grew crops such as tobacco for export, for redistribution to black subsistence farmers. Economic growth is expected to slow this year as consumer spending plummets and investment languishes, partially because of a law that compels 51 percent ownership by black Zimbabweans of companies.
"The ugly truth is that many of our people are struggling to make ends meet," Gumbo said. "The fact is that we are really faced with a desperate situation that calls for an urgent change of priorities."
The political infighting is deterring investment and those involved are "not only selfish, insensitive and on the wrong side of history, but also tarnishing the good name of the party," he said.
Before it's here, it's on the Bloomberg Terminal.
LEARN MORE