The Deal to Sell 6,000 of Detroit's Blighted Properties Falls Apart
By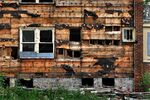 Just a week after his surprising bid to buy more than 6,000 tax foreclosures in Detroit, casino and real estate developer Herb Strather has withdrawn his offer, the Detroit Free Press reports. Strather's bid was unexpected because the county and city stuffed the bundle with thousands of properties that would require an estimated $24 million to demolish, purposefully making the package so unattractive that no one would want it. That way the county could legally transfer the properties to the city, which has a newly rejuvenated land bank that's leading the local blight-removal effort.
Strather didn't immediately return a call seeking comment. Last week he told Bloomberg Businessweek that he'd hoped to keep some of the best parcels for his investment fund and find a way to get the city to use federal funding to demolish the decrepit properties. The Wayne County's deputy treasurer, David Szymanski, said a plan like that wasn't "going to fly," and the land bank said it's allowed to demolish only properties it owns.
Szymanski said his office met with Strather and laid out the expectations that the developer take responsibility for demolishing the blighted properties and participate in other programs the land bank runs that gives neighbors the chance to pay $100 for empty lots. Those expectations were public before the auction closed, and Szymanksi says, "I don't know how somebody could interpret" the original guidance to allow a plan to offload the worst properties on the city. Szymanski says Strather also met with Detroit Mayor Mike Duggan before withdrawing his offer.
Strather was the only bidder, so the properties now go to the city. Szymanski says he anticipates the city will ask the county to transfer the properties directly to the land bank. The process could take as little as three weeks. "When you are talking about transferring 6,000 properties, it might take a few minutes longer," he quips. Strather's bid in the end will be more like a hiccup on the path of what was planned all along.
Before it's here, it's on the Bloomberg Terminal.
LEARN MORE