Susie Wolff Doesn't Care What You Think: Formula One's Rising Star
by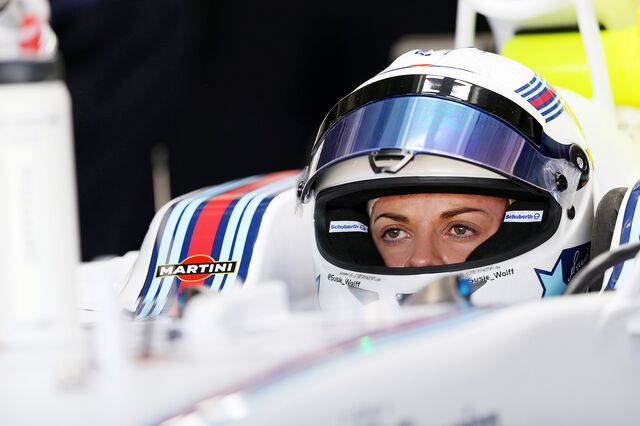 Much has been said in the automotive press about Susie Wolff, the 31-year-old Scot who, earlier this year in England, was the first woman in 22 years to drive in a Formula 1 race weekend.

We know she started riding motorcycles at age two, started racing go-karts at age eight, and became the back-up driver for Williams Martini racing in 2012.
We know she's fit (with a thick drivers' neck), stylish (Balenciaga tennis shoes when I met her last week in Austin) and not into something so soft as a women's version of Formula 1 ("I would never -- you simply won't get enough women," she emphatically told me there one morning.)
We know she is married to Toto Wolff, executive director of the Mercedes AMG Petronas F1 team.
All this we know. So when I met her in a ballroom at her hotel, I knew I wanted to focus on what Wolff thinks about from the minute she rises at her home in Ermatingen, Switzerland, to the moment she falls asleep: How she can become a better driver, and what it means for the sport as she does. As development driver she tweaks the car simulator, attends races, and works with team engineers to perfect the existing car -- and soon may make history as the first female starting driver for an F1 team.
She walked in with three handlers -- women in tight dresses and heels carrying bottles of Williams-Martini branded champagne and about three phones each -- but in her tennis shoes, jeans, and zip-up jacket blazing with red-white-blue team colors, she seemed confident and relaxed. Small diamond earrings in her ears and what can only be described as a blinged-out white watch were her only accessories. It seemed the correct combination of personality and responsibly to represent her team.

Fine-tuning, Mentally

Hannah Elliott: Tell us about your job.

Susie Wolff: My role is development driver, so I'm out on the track, listening to the other drivers' comments, because that all relates to the work I do back at the factory and the work we do [fine-tuning] the car.
The mental preparation starts a week before -- and the physical part starts way before, too. You start training hard and getting ready early so that you're at your peak performance when you get in the car.
Mentally it's all about visualization. It's about imagining being in the car, doing laps of the racetrack in your head so that you're well prepared, and then a lot of the work is done using the simulator. They're very, very high-tech computer systems.
You also do a lot of work with the engineers so that when you get in the car you know exactly what's expected, because running time in Formula 1 is very limited. We don't get a lot of time in the car, so every time in the car, every lap, is important.
Physical Preparation

Elliott: Often people underestimate just how physical it is to drive one of these cars -- I know I do! Can you talk us through the things you to do stay in shape?
Wolff: People think when we're driving the car that we're barely moving so it must be easy. And that's frustrating -- the high G force that we experience in the car is very physical. We do special neck training to prepare for driving the car. I also need to do a lot of physical training, but I don't want to bulk up, so I do it mostly with my own body weight. And I do heart training, like tying to get your pulse up very high and then back down as soon as possible. I do that because when you have a moment in the car where your heart rate lifts it's about bringing your heart rate back down quickly.
Gender Politics
Elliott: Do your slight height and weight give you an advantage in the car over bulkier men?
Wolff: It's a talking point of Formula 1 just now. You cannot generalize a female against a male; we are all different. People say, "You must be better at multitasking in the car." Because I'm a woman? No. Ultimately the guys who are winning races are fantastic multitaskers. I don't like to generalize so much on gender. I think it has more to do with your personality and character.
That said, the issue of being smaller and lighter without a doubt helps. The cockpits are tighter than ever, so you can't be big and bulky. You don't see any big and muscly guys out there because you cannot afford that in the car. The smaller you are the lighter you are the less pressure you have to keep their weight down -- so that does play into my hands -- but it doesn't give me a massive advantage. The weight that I save from being smaller I have to add on in the car to make sure that it's a level playing field.
A Natural Fit
Elliott: That said, driving seems natural for you.
Wolff: For me I've always felt like just one of the drivers out on the track. The big advantage for me in my sport is when I have my helmet on and I'm out on the track, you can't tell my gender, you can't tell what I look like. All that matters is my performance.
I've never seen myself as set on a path to be something different. I simply wanted to be the best at what I loved doing, and that's racing. I don't see myself as any different -- but many people do.
Elliott: How do you handle that difference between perception and reality?
Wolff: For me, actions speak louder than words, and I think as soon as I can get out into a Formula 1 race and do well then that question will not be asked any more. That's always my goal.
Perception vs. Reality
Elliott: How do you want to be perceived? Can you be stereotypically feminine and wear jewelry, long hair, and make-up, dress in designer clothing, and also taken seriously by your peers?
Wolff: The balance between the two was at one point in my career very difficult to find. I came to the racetrack and wanted to be taken seriously as a racing driver. Then you get told you're driving a pink car. So a real cliché, and for a long time it was difficult for me to fight against that. And it was like can I turn up at the racetrack caring about my appearance, looking the best I can, or should I come looking very masculine and sporty just to show that I mean business?
It was my husband who helped me so massively at that time in my career because he said, "You are who you are. You don't have to conform to be something like what people expect or don't expect. Just be who you are and that is enough." And that's when I kind of stopped thinking about all that stuff and just became me.
RELATED VIDEO: The 200 Mph Woman Taking on the Sport of Billionaires

Before it's here, it's on the Bloomberg Terminal.
LEARN MORE