Sulzer Needs Deal After Losing on Dresser-Rand: Real M&A
Brooke Sutherland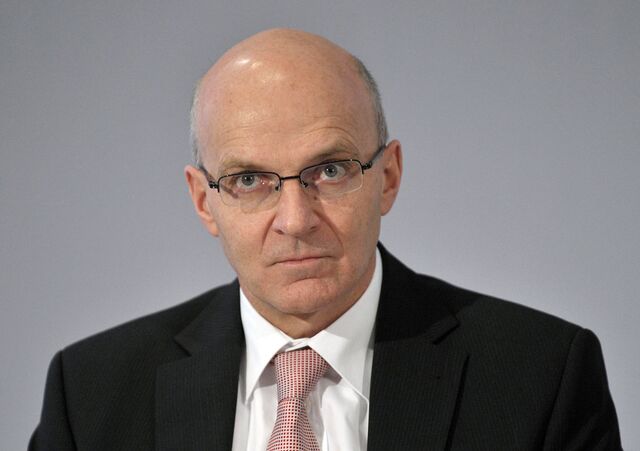 After losing out on what would have been its biggest deal ever, pumpmaker Sulzer AG still needs a transformational takeover to help reverse years of declining revenue.
German industrial giant Siemens AG thwarted Sulzer's dreams of buying Dresser-Rand Group Inc. when it agreed to acquire the maker of compressors and turbines for $7.6 billion in September. Sulzer's shares have since tumbled 18 percent. Chief Executive Officer Klaus Stahlmann, backed by billionaire shareholder Viktor Vekselberg, is now scouring for a substitute target in the energy-services market, which is expanding amid a drilling boom in North America.
Sales growth is a good starting criterion for $3.8 billion Sulzer, whose revenue is projected to increase at one of the slowest paces in the industry over the next three years. Dril-Quip Inc., which analysts last year highlighted as a top energy-equipment takeover candidate, is forecast to boost revenue about 30 percent through 2016. Chart Industries Inc., a maker of technology to store liquefied natural gas, also is a potential target in that market, said Eagle Asset Management Inc.
"As we saw from Siemens acquiring Dresser-Rand, there's a benefit to offering more products within the oil and gas space," Justin Bergner, a Rye, New York-based analyst at Gabelli & Co., said in a phone interview. "There's a focus on no longer just being the best player in pumps or in compressors but having a broader product offering. That's what I think is behind Sulzer's continual evaluation of other candidates."
Three Areas
Matthias Hochuli, a representative for Winterthur, Switzerland-based Sulzer, said the company could expand its product offerings in areas such as rotating equipment as it focuses on the three key markets of oil and gas, power and water.
"We have opportunities of smaller to medium-size acquisitions in all three divisions," Hochuli wrote in an e-mail.
Representatives for Houston-based Dril-Quip and Garfield Heights, Ohio-based Chart didn't respond to requests for comment.
Sulzer today climbed 2.2 percent to 108.60 francs in Zurich.
CEO Comment
Sulzer hasn't been shy about wanting to expand its energy equipment portfolio. In September, the pumpmaker confirmed it was in talks to merge with Dresser-Rand, a company that was about $1 billion bigger than itself at the time. After Siemens stepped in, Sulzer walked away and turned its attention to finding a Dresser-Rand look-a-like.
"I have more opportunities like Dresser-Rand, in the space which we can look at," CEO Stahlmann said in an interview last month. "There's not 100s of companies of a similar size for a merger, but there are a couple. What is clear is that we would still prefer to look at the flow control, oil and gas space."
The company has more money to spend on deals, with the sale of its coatings unit for about $1 billion announced earlier this year.
Sulzer's largest shareholder is Vekselberg, who owned a 33 percent stake through his Renova Group as of Oct. 8. He deepened his control of Sulzer earlier this year when the company appointed a new chairman: former Siemens CEO Peter Loescher, who had just been named head of Vekselberg's industrial holding company.
"Vekselberg by bringing in Loescher as chairman is extending his influence at the company," Martin Lehmann, co-manager of 3v Asset Management's 3v Invest Swiss Small & Mid Cap Fund, said in a phone interview. His fund sold its Sulzer shares in September.
Investor Disappointment
If Sulzer's stock performance the last few months is any guide, investors are ready for the company to follow through on a deal. Since abandoning its pursuit of Dresser-Rand, Sulzer shares have tumbled, dragging its profit multiple to an almost three-year low last month.
On its own, Sulzer is facing hurdles. Analysts project the company's sales growth will trail almost every peer in the flow-control equipment industry over the next few years, according to data compiled by Bloomberg.
Losing Dresser-Rand was "a disappointment," Philippe Comby, who helps manage assets including Sulzer shares at Hottinger Capital Corp., said in a phone interview. "They need to build up the pump business. They have sluggish development there. They probably need an acquisition."
Fewer Options
More than $17 billion in energy equipment deals over the last two years have reduced the number of available targets. About a year before Dresser-Rand agreed to sell itself, General Electric Co. acquired oil-well pumpmaker Lufkin Industries Inc. That same month, KKR & Co. closed a takeover of Gardner Denver Inc., which makes equipment for industries including manufacturing and energy exploration.
Among the remaining options in the industry, Chart is a logical target, said Eric Mintz, a fund manager at Eagle Asset Management, who correctly forecast the eventual takeovers of both Lufkin and Dresser-Rand. Chart's market valuation yesterday was $1.3 billion.
"People always kind of viewed those three stocks -- Lufkin, Dresser and Chart -- as being eventually pieces of larger portfolios in the industrial space," Mintz said in a phone interview. His firm oversees about $31 billion, including shares of Chart.
Chart Bargain
The company's shares have fallen more than 50 percent this year amid regulatory and customer delays in China that slowed business in that country. It now trades at about 8 times its earnings before interest, taxes, depreciation and amortization in the last year, making it a bargain compared to Dresser-Rand, which commanded about twice that in the bid from Siemens.
Analysts and investors last year named Dril-Quip alongside Dresser-Rand as a potential target for GE. The company makes subsea drilling equipment and was valued at $3.3 billion yesterday.
They're one of the top "providers of subsea wellheads in the world, up there with GE's business," said Stephen Gengaro, a New York-based analyst with Sterne Agee Group Inc. "I don't know if it actually ever happens, but I do think there is a case to be made that that's a company that people could look at."
Start Small
Some investors prefer that Sulzer focus on smaller deals instead. Joe D'Angelo, a portfolio manager at CI Investments Inc., said it would be better if management built up a track record doing successful deals smaller than $1 billion, rather than attempting something transformational.
Whether it's a big deal or a small one, Sulzer is likely to give its investors some kind of transaction soon, Comby of Hottinger said.
"I don't think they're just going to give everything back to the shareholders," he said.
Before it's here, it's on the Bloomberg Terminal.
LEARN MORE