Shaheen Holds Off Brown in New Hampshire
Annie Linskey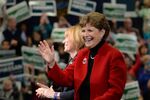 In New Hampshire all politics was local this year—despite Republican Scott Brown's best efforts to steer attention elsewhere. He pushed for securing the country's southern border, which is roughly 2,000 miles away from New Hampshire; he railed about the scourge of Ebola, a disease that has ravaged residents of western African nations but hasn't hit anybody in the state; and he talked about the threat from the Islamic State.

Yet Senator Jeanne Shaheen prevailed, in the one bright spot for Democrats on Election Night.
It was an aggressive interpretation of the GOP playbook this year to nationalize the midterm elections. Republicans Tom Cotton and Cory Gardner won their races while focusing on President Barack Obama. But Brown went a step further than nationalizing--he internationalizing the campaign.
In contrast Shaheen, a former governor, stayed hyperlocal. She focused on the jobs she saved at a shipyard, improvements she made to an interstate, and the veterans center she kept open. Those weren't the types of headlines that attracted national press.
When Hillary Clinton stumped for Shaheen on Monday the former secretary of state stuck the local script. "Jeanne fights as hard for you in Washington as she did in Concord," Clinton said. Then on cue, she mentioned "all those jobs at the Portsmouth Naval Shipyard" that Shaheen protected and the legislation Shaheen pushed to get "New Hampshire's small businesses  tax relief and access to credit."

Shaheen's keep-it-local strategy had an extra bite to it: It reminded voters that she's long been involved with the nitty-gritty of governing New Hampshire while her opponent was a newcomer: A former state senator from Massachusetts who served briefly in the U.S. senate before losing to Elizabeth Warren. Brown moved to New Hampshire full time last year. 
"I didn't just move here, I've been here," Shaheen slyly reminded voters in one of her final TV commercials.
Still, Shaheen's apparent victory came at a cost high cost: Democrats spent tens of millions of dollars defending an incumbent in a state that President Barack Obama won by 5.6 percentage points in 2012. That's money that could have been spent elsewhere in a year that's shaping up to be very hard for Democrats. 
Shaheen outspent Brown 2-1, according to the Center for Responsive Politics. Outside groups on both sides also focused on the race, with roughly $16.3 million in spending on behalf of Shaheen and nearly $15 million boosting Brown through Nov. 4, according to the Center for Responsive Politics. 
That will leave a natural question for Brown: What is next. Twitter joked that Brown might next set his eyes on a race further north in Maine. If he decides to do that he does walk into the race with one advantage: It's his birth state.