Roberts Apparent Winner vs. Independent in Kansas
The competitive race surprised even seasoned operatives in the red state.
By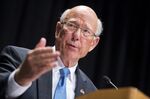 Bloomberg Politics is reporting that Kansas Senator Pat Roberts is the apparent winner in his re-election race against independent Greg Orman.
The competitive race surprised even seasoned operatives in the red state, who expected Roberts to cruise after surviving a bruising August primary against a Tea Party challenger, Milton Wolf.  Much of that campaign turned on a report that Roberts did not own a home in Kansas, an attack that at least a few Republicans said he should have anticipated.  
While Roberts took a break after the primary (returning home to northern Virginia to rest, as his longtime campaign manager told reporters), Orman's campaign dumped millions into the Kansas airways, introducing the political novice to local voters as a pragmatic business executive above partisan fighting. The Democrat in the race, Chad Taylor, dropped out of the race in the fall, consolidating the anti-Roberts votes and the state's senior senator began hemorrhaging points in the polls.

The Republican cavalry rode to the rescue in late September, dispatching campaign staff, pouring millions into campaign ads, and sending in a fleet of high-profile surrogates as Roberts began leveraging his Washington contacts for fundraising. In total, his campaign spent nearly $7 million to Orman's $3.5 million, according to the most recent data collected by the Center for Responsive Politics. Outside groups spent at least an additional $17 million, with most backing Roberts.  
Their strategy was to attack Orman's business record while getting their party faithful to the polls. Roberts crisscrossed the state, warning voters that casting a ballot for Orman would result in a Democratic-led Senate. Orman, for his part, refused to tell voters which party he would caucus with in Washington, or answer questions about his positions on other issues.
"A vote for Pat Roberts is a vote for a Republican majority to end the gridlock,'' Roberts said in an October debate. "A vote for Greg Orman is a vote to continue the Barack Obama/Harry Reid agenda."
The victory came as a great relief not only to Roberts but also his junior Senate partner–Jerry Moran, the head of the Republican Senatorial Campaign Committee.