Republicans Poised to Hold Sway in States
Mark Niquette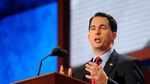 Republicans, who took control of the U.S. Senate, also expanded their advantage in the 36 states that elected chief executives, including Florida and Wisconsin. The party claimed majorities in a record two-thirds of legislative chambers.
After gains driven by the Tea Party in 2010, Republicans controlled 29 of the nation's 50 governorships before yesterday's vote. They now hold at least 31, with the outcomes of four races still in doubt. That gives the party the most since 1999 and approaches the record 34 seats in the early 1920s, according to National Governors Association data that begins in 1900.
Republicans lost an incumbent in Pennsylvania and defeated a Democrat in Illinois, while picking up open seats held by Democrats in Arkansas, Maryland and Massachusetts. Of the four states that hadn't been called as of this morning, Democrats held the governor's office in three.
State-level policy making is increasingly important with Congress and President Barack Obama deadlocked. In the past term, Republicans made changes in laws governing voting, abortion and taxes.
In a midterm election that historically favors the party that isn't in the White House and with lower turnout than in presidential years, Republican candidates also won in states where polls had indicated close races, including Florida, Michigan and Kansas.
Wisconsin Triumph
The re-election of Wisconsin Governor Scott Walker was among the most resounding Republican victories.
Walker, 46, who survived a recall attempt two years ago after curbing collective bargaining for public workers, beat former Trek Bicycle Corp. executive Mary Burke. The win buoyed a potential 2016 presidential candidate and ratified his agenda, one that's been emulated across the Midwest in Ohio, Indiana and Michigan.
The curbs to bargaining rights in 2011 sparked weeks of protests in Madison, the capital. Walker also cut school funding, tightened voting regulations and reduced access to abortion, elevating his status among conservatives.
"For the third time in four years, Wisconsin voters have rewarded bold leadership and the real results it yields," the Republican Governors Association said in a statement. "He has done the things a good governor should do."
In Florida, Republican Governor Rick Scott won re-election over Charlie Crist, who led the state as a Republican from 2007 to 2011 and ran as a Democrat.
Persuasive Powers
Scott, 61, the founder of the hospital company that became HCA Holdings Inc., pledged to cut taxes by $1 billion while increasing funding for schools in the fourth-most-populous U.S. state.
Crist, 58, had said that his former party affiliation would enable him to persuade the Republican-dominated legislature to expand Medicaid for about 1 million residents and raise the minimum wage. He also said he would protect consumers from rising electricity prices.
Democrats held onto governor's offices in New York, New Hampshire and California and picked up Pennsylvania, where Democratic businessman Tom Wolf defeated incumbent Tom Corbett. In Rhode Island, Gina Raimondo became the first Democrat elected governor since 1992 after helping push through pension benefit cuts for government workers.
No Fung
Raimondo, 43, defeated Allan Fung, 44, the Republican mayor of Cranston, in a race to replace Governor Lincoln Chafee that was seen as test of whether a Democrat could challenge public-sector unions that are a key constituency and still win.
In legislatures, Republicans had set a goal of controlling 66 of the 99 U.S. chambers, a symbolic supermajority of majorities. They won as many 69, according to the Republican State Leadership Committee.
The record for the party was 64 in 1920, the committee said.
Going into yesterday's vote, the party held full legislatures in 27 states, three shy of its record, according to the National Conference of State Legislatures.
Republicans had targeted 16 chambers they wanted to take from Democrats. Democrats picked up no chambers and lost four the party targeted, said Kurt Fritts, national political director for the Democratic Legislative Campaign Committee.
"We always knew it was going to be a difficult year," Fritts said.