Scott Beats Crist in Florida Governor's Race
Toluse Olorunnipa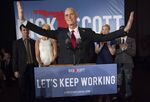 Rick Scott, Florida's Republican governor, was elected to a second term, beating predecessor Charlie Crist in the most expensive contest of the 2014 midterms.
Scott collected 48.3 percent of the votes to Crist's 47 percent in yesterday's vote, according to preliminary results from the Associated Press with 99 percent of precincts reporting. With Scott's victory, Republicans continue their two-decade streak in control of the Tallahassee governor's mansion and boost their prospects for the 2016 presidential election in a perennial swing state.
"We have made unbelievable progress in the last four years," Scott told supporters last night at his victory party in Bonita Springs."But our work is not done until every family, like the one I grew up in that struggled to make ends meet, can get a great job, raise a family and have a shot at the dream of America."
Crist said he called the governor to concede around 11:30 p.m.
Scott's victory came exactly a year after Florida Republicans began airing negative television ads against Crist, a former Republican governor turned Democrat. An onslaught of $81 million of ads followed, with the candidates branding each other as "shady," "lousy," and "slick." Millionaire donors and potential presidential candidates came to the state to influence the outcome.
As the largest presidential swing state, Florida stands as a top prize for both parties, said Susan MacManus, who teaches politics at the University of South Florida in Tampa.
Scott's "campaign and his supporters have effectively painted Crist as a flip-flopper at a time when people are really down on politicians," she said.
Scott, Solidified
The victory will help Scott, 61, build his profile after a first term in which the former health-care executive struggled to adapt to life as a politician, MacManus said. The founder of the hospital company that became HCA Holdings Inc., Scott was a newcomer to politics when he spent more than $70 million of his personal fortune on his 2010 campaign. His approval ratings suffered after he cut education spending and signed laws on social issues such as abortion and gun rights.
Scott has shifted toward the center of the political spectrum in the past two years, increasing spending on education and the environment. During his campaign for a second term, he pledged to cut taxes by $1 billion and boost per-student education spending to a record amount.
He also highlighted the economic recovery in Florida, where the unemployment rate has declined almost 5 percentage points to 6.1 percent during his term. In the barrage of ads, Scott's campaign criticized Crist, 58, for job losses while he was governor from 2007 to 2011.
Second Failure
Crist, who fled the Republican party to make an unsuccessful independent bid for the U.S. Senate in 2010, failed again with a comeback as a Democrat. His loss means Republicans, who control the legislature and all four Cabinet-level positions, will continue dominance in Florida's capital.
"Losing is not fun, but what is most important is that we come together as a state," Crist said in his concession speech in St. Petersburg.
Scott contributed $12.8 million to his re-election, the most expensive in state history. Crist and Scott raised record amounts, according to state campaign finance reports. Donations from insurance companies and energy companies helped Scott raise more than $62 million, while Crist's campaign collected more than $45 million from labor unions, trial lawyers and other donors. The state's Republican and Democratic parties raised millions more.
Outside groups pitched in. The Republican Governors Association donated more than $18.3 million to Scott's re-election bid. NextGen Climate Action Committee, the political-action committee started by billionaire environmentalist Tom Steyer, spent $16.1 million to defeat Scott. Much of the money funded the ads that blanketed the state from Jacksonville to Miami.
Negative Flood
"Rick Scott delivers results," Jeb Bush, the former Florida governor considering running for president, said in a commercial touting Scott. "Unemployment has been cut in half and more than 600,000 jobs have been created."
Florida's race led the nation in spending on television spots, most of them negative, according to the Washington-based Center for Public Integrity.
Potential presidential candidates visited Florida almost on a daily basis in recent weeks, signaling the importance of a state that has 29 of the 270 electoral votes needed to win the presidency.
Hillary Clinton, Vice President Joe Biden and Republican governors Chris Christie of New Jersey and Bobby Jindal of Louisiana were among those who visited. Scott traversed the state on Election Day with Texas Republican Governor Rick Perry, who is also considering a run for president.
Florida has sided with the winner in nine of the past 10 presidential elections, and the party that controls the governor's office will have "some real advantages" in fundraising and organizing, MacManus said.
"You have a jump start on the other side," she said. "And Florida is known as the ultimate swing state in the whole country in light of the closeness of our last elections."