business
No More Soviet-Era Rocket Engines for NASA Freight Haulers
By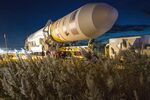 The company that suffered a launch failure last week during a mission to resupply the International Space Station has decided to accelerate a planned engine upgrade for its Antares rocket.
Orbital Sciences said on Wednesday that its initial analysis of the Oct. 28 Antares destruction "points to a probable turbopump-related failure" in one of two Aerojet Rocketdyne AJ-26 main engines. The AJ-26 is a modified version of a Russian design that dates to the 1960s, which had drawn early suspicion in the failed launch. The malfunction, which caused officials to destroy the rocket about 20 seconds after liftoff, destroyed about 5,000 pounds of supplies and science experiments on the company's Cygnus cargo spacecraft.
Orbital Sciences has a $1.9 billion NASA contract to conduct eight cargo missions to the ISS. To meet its contractual obligations, the company plans to employ "various launch vehicles" to carry at least two Cygnus payloads to the ISS by the end of 2016. The next Antares launch, with the new engines, is also scheduled for 2016.
Ahead of its new engine introduction, Orbital Sciences is evaluating several alternative rockets to get its cargo capsule to the ISS. No dates for those missions have been determined, spokeswoman Sean Elizabeth Wilson said in an e-mail. The company has declined to say which engine it has chosen to replace the AJ-26. In a 2012 interview, Elon Musk, the founder of rival launch firm SpaceX, mocked the aged engine technology as "the punch line to a joke."
Orbital shares plunged 15 percent the day after the rocket failure, and declined 3.7 percent on Wednesday. The stock has gained about 4 percent this year.
Before it's here, it's on the Bloomberg Terminal.
LEARN MORE