Nuclear Power, Banks Seen Gaining in Republican Congress
Todd Shields and Jim Snyder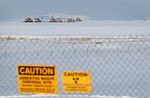 Republican control of Congress may boost nuclear power and give banks eased enforcement of consumer laws, though it's unlikely to yield a rollback of Obamacare over objections of a veto-wielding president.
Oil pipeline builder TransCanada Corp. may find a way to advance the Keystone XL pipeline and communications companies such as AT&T Inc. could see progress toward updating a legal framework that predates widespread Internet use.
Success on these and other items backed by U.S. business will come only from negotiations between President Barack Obama and top leaders of the House and Senate, who in January will be Republican.
"Legislative impact on business will depend on the willingness of Senate Republican leaders to negotiate with the president," said William Galston, a senior fellow of governance studies at the Brookings Institution in Washington.
The end of a divided Congress won't open the gate for every Republican-backed bill to become law. Senate Democrats retain the power to slow bills and Obama keeps the veto pen he's used twice.
Republicans also could wield powers from the Congressional Review Act, which lets lawmakers vote to disapprove major rules before implementation. A simple majority is required, though Democrat Obama could veto any resolution.
Here is a review of some topics that could be taken up by the Republican-controlled 114th Congress that convenes Jan. 6:
Financial Services
The Consumer Financial Protection Bureau, created over the protest of Republicans and banks in 2010, might become a target as Senator Richard Shelby takes over the Banking Committee. The Alabama Republican is likely to join House Financial Services Committee Chairman Jeb Hensarling in seeking to limit the agency's power to act independently of Congress, industry lobbyists said.
JPMorgan Chase & Co., Bank of America Corp. and Wall Street firms will find the new Congress less likely to pursue penalties tied to the financial crisis that peaked in 2008. Democratic Senator Carl Levin, a bankers' scourge as chairman of an investigations subcommittee, is retiring. It isn't clear who will take over.
Republicans and Democrats disagree on fundamental questions such as whether a new tax code should raise more money for the federal government. They also must resolve which tax breaks should survive. It's difficult to see a tax revamp becoming law before 2017, said Marc Gerson, a tax lawyer at Miller & Chevalier in Washington.
Energy
House lawmakers will push legislation to promote energy efficiency and the speed U.S. approval of oil and gas drilling permits, Representative Fred Upton, the Michigan Republican who is chairman of the Energy and Commerce Committee, said in an e-mailed statement today.
Senate Minority Leader Mitch McConnell, poised to lead the Republican majority in January, told Time magazine in an interview published online today that the Keystone XL pipeline is among items the Senate is "very likely" to vote on early in 2015.
Charles Ebinger, director of the energy security initiative at the Brookings Institution in Washington, predicted that Obama would veto any bill requiring approval of the pipeline carrying oil sands from Canada to U.S. refineries.
Resolving where the nation sends nuclear waste may be an issue that brings Democrats and Republicans together after Obama and Harry Reid, the Nevada senator and until January majority leader, blocked funding for the proposed nuclear waste site at Yucca Mountain in Nevada.
Solutions such as promoting on-site storage or establishing regional waste sites may now be possible, said Colin Hayes, a lobbyist at McBee Strategic and former Senate energy committee Republican aide.
That would be a boon for nuclear producers such as Chicago-based Exelon Corp.
Obama could also find common ground with Republicans from the Midwest who support extending wind energy tax credits, said Michael Webber, deputy director of Energy Institute at the University of Texas at Austin.
Ending limits on U.S. crude oil exports in place since the 1970s, a step sought by Exxon Mobil Corp. and Continental Resources Inc., may get an airing as Alaska Republican Lisa Murkowski, who backs exports, takes over the Senate Energy and Natural Resources Committee.
Health Care
Republicans may try to relieve medical-device makers such as Boston Scientific Corp. and St. Jude Medical Inc. of a 2.3 percent tax on their products that is part of the Patient Protection and Affordable Care Act, known as Obamacare. Some device companies say they have have cut jobs or research spending to offset the cost of the tax.
Hospitals meanwhile are seeking elimination of a new Medicare cost-control board created by the law.
Obama could veto either item, as well as the repeal of the law sought by Republicans such as House Speaker John Boehner.
The president today said he could consider further adjustments in the law.
"If in fact one of the items on Mitch McConnell and John Boehner's agenda is to make responsible changes to the Affordable Care Act to make it work better, I'm going to be very open and receptive to hearing those ideas," Obama said at a White House news conference.
Cybersecurity, NSA
Companies could win legal protections for sharing information about hacking threats in a bill awaiting final approval. Privacy advocates say the plan could help the National Security Agency sweep up information about innocent Americans.
Supporters of the bill say barriers to sharing information need to be eliminated so companies can prevent data breaches such as those that hit JPMorgan, Home Depot Inc. and Target Corp.
The bill has support in both parties and may be offered again in the new Congress if it fails in coming weeks.
Patents
Legislators are split on the need for new patent laws. Senator Orrin Hatch, a Utah Republican and prominent voice on patent issues, has said legislation would be a top priority. In the House, Judiciary Committee Chairman Robert Goodlatte of Virginia also has promised to move on legislation.
Congress passed a sweeping patent law in 2011 and courts have ruled against companies whose sole business is to buy up patents and try to collect royalties on them.
Google Inc. has been pushing for changes it contends will curb abusive litigation practices. A group whose members include Apple Inc. and Microsoft Corp. said further changes could undermine innovation needed to boost the economy.
Telecommunications
Lawmakers will move to rewrite a telecommunications law that takes little account of the Internet, Upton said.
Verizon Communications Inc. and AT&T have said they welcome congressional efforts to amend communications law that had its last overhaul in 1996.
Leadership Changes
Changes in committee leadership also might change the congressional agenda.
Senator James Inhofe, an Oklahoma Republican who has questioned the science behind climate change, probably will become chairman of the Environment and Public Works panel. He'd replace Senator Barbara Boxer, a California Democrat with a 90 percent approval rating from the League of Conservation Voters.
The EPA's scientific support for sweeping greenhouse gas emissions rules has been challenged by Inhofe in the past.
At the head of the Armed Services Committee, Arizona Republican Senator John McCain would gain a platform for his criticism of Obama on everything from the fight against terrorism to spending on Lockheed Martin Corp.'s F-35 fighter jets and the Navy's Littoral Combat ship.
"We do have an obligation to work together on issues where we can agree," Republican Senator Mitch McConnell of Kentucky, in line to become majority leader, said after winning re-election. "Just because we have a two-party system doesn't mean we have to be in perpetual conflict."
Obama was set back after the 2010 midterm elections in which Republicans gained control of the House. At the time, Democratic advisers told Obama he should bypass Congress and wield his executive powers. In January, Obama said he would look for opportunities to sidestep Congress in pursuing his agenda.
Delayed Actions
Obama has delayed some actions, for instance not issuing anticipated orders on the legal status of immigrants. His administration hasn't issued the permit needed by TransCanada to build the Keystone XL pipeline that Republicans back.
Democrats have the option to thwart the Republicans.
"The filibuster will still be used by the minority to slow things down. The president will threaten vetoes," James Thurber, a professor at American University in Washington, said in an interview. "It will be continued deadlock, agony and angst."
"I drink a lot of gin when I write about it," Thurber said.
Before it's here, it's on the Bloomberg Terminal.
LEARN MORE