pursuits
#AlexFromTarget Is the Worst Thing on the Internet This Week
By
On Monday morning, I opened Facebook to discover that my friends—fully grown adults, people with jobs and mortgages and entire Facebook photo albums dedicated to really boring bathroom renovations—were blabbering on and on about a 16-year-old boy who worked at Target. It was even worse on Twitter. Everything was #AlexFromTarget this, #AlexFromTarget that. How did he get famous? Who was he? Was this some sort of meta marketing campaign? Why was this happening? That reminded us, we really need to buy some stuff at Target.
Here's what they were reacting to: on Nov.2, a teenager named Abbie tweeted a picture of a sandy-haired bag boy at Target, along with the word "YOOOOOOOOOO," which is teenager-speak for "this person is hot."

That's it. That's all that happened.
Except for some reason, Abbie's photo was retweeted more than 4,500 times. At least, I think it was her photo; she later claimed that she didn't take it. The picture was posted and re-posted, photoshopped and multiplied. Teenage fans of Vine stars Cameron Dallas and Nash Grier circulated it, as did Target's corporate account. People did impressions of #AlexFromTarget. A less-hot guy from Starbucks was briefly introduced to the mix. Analytics firm Topsy has been keeping track of Alexmania; there have been 1.2 million tweets about him as I write this. By the time you read it, there will be more.
Before all this started, Alex Lee was just a Dallas high school student with 144 Twitter followers. Now he has 600,000, roughly the same as Margaret Atwood and BJ Novak. Fake accounts of Alex have popped up on Twitter and Instagram. Some merely repost Alex's pictures; others seem to be run by similar-looking teenagers trying to trick people into thinking they're the world's most famous bag boy. Nobody knows why.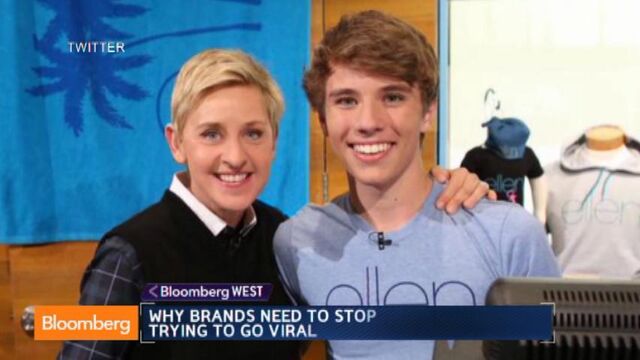 Target says it had nothing to do with it. "No connection," Molly Snyder, Target's spokesperson, wrote to Bloomberg Businessweek in an e-mail, "And I do not know who took the photo." Nobody else seemed to know, either. Abbie, Alex, and Alex's confused girlfriend—who began receiving crazed death threats—weren't responding to interview requests, with one exception. Two days after Abbie's original tweet, Alex flew to Los Angeles to appear on The Ellen Show, where he came across as a friendly but confused teenager who'd never been interviewed before.
"Do you feel now obligated, like you have to tweet things out?" Ellen asked him at one point.
"Oh, God," Alex replied. "I don't even know what to say. I just—I feel so pressured. Like, they're waiting."
"Are you overwhelmed by this?"
"Yeah."
Why did any of this happen? Most accidental Internet celebrities at least do something—release Vine videos, record the song Friday, have a particularly grumpy-looking cat—that brings them fame, however ridiculous or unwarranted the rest of us think it is. Alex hasn't done anything. When Ellen asked if he had any hidden talents, he couldn't come up with anything. "I mean, I can apparently bag groceries pretty well," he said.
The cynical explanation is that "Alex from Target" was an orchestrated campaign to drum up some combination of money and publicity. Indeed, a publicity firm called Breakr has claimed responsibility for the whole thing. "We wanted to see how powerful the fangirl demographic was by taking a unknown good-looking kid and Target employee from Texas to overnight viral internet sensation," Dil-Domine Jacobe Leonares, Breakr's chief executive officer wrote on a LinkedIn post. That's not entirely accurate: Breakr didn't take the picture.
"Apparently there is a company trying to credit for how the pic was taken," Alex recently said in response to Breakr's claims. "My family and I have never heard of this company. I didn't know the pic was taken or tweeted until my store manager showed me." Later, Leonares clarified that Breakr didn't engineer the photo, it merely created the #AlexfromTarget hashtag. Except that it didn't do that either. The first use of the hashtag appears to have been from a Nash Grier fan named Payton, who used it in front of her 11,700 followers about six hours before Breakr's Twitter account did; her post was retweeted 76 times. Breakr's account has 1,300 followers, none of which are Payton.
So basically, a cute teenager had his picture taken without his knowledge or permission, and it spread across the Internet because who knows why? Target denied involvement. An unaffiliated publicity company tried to take credit where, it would appear, none is due. This is how the Internet works now, I guess. But hey, at least Ellen gave Alex a free iPad.
Before it's here, it's on the Bloomberg Terminal.
LEARN MORE