Michigan Re-Elects Snyder After Navigating Detroit Crisis
Chris Christoff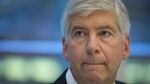 Michigan Republican Governor Rick Snyder was elected to a second four-year term over Democratic challenger Mark Schauer, surviving a campaign of attacks and counterattacks over taxes and education spending.
Snyder, 56, won 51.2 percent to Schauer's 46.6 percent, according to preliminary results from the Associated Press with 81 percent of precincts counted. Snyder's campaign boasted of an economic resurgence that has cut unemployment to its lowest in six years and produced a budget surplus.
"We're building a foundation for generations to come," Snyder told a crowd at his victory party in Detroit's Renaissance Center. He said employment, home values and residents' confidence have risen during his first four years.
"Don't be complacent, let's accelerate, go faster and get more done," he said.
Snyder's victory came three days before a judge is to decide whether to accept Detroit's plan to settle its bankruptcy. The governor put Michigan's largest city under state control in March 2013. Five months later, his hand-picked emergency manager, Kevyn Orr, filed the largest U.S. municipal bankruptcy.
Detroit's fiscal meltdown and plans for recovery were an undercurrent in a campaign marked by television advertising paid for by outside groups, notably the Democratic and Republican governors associations.
New Jersey Republican Governor Chris Christie campaigned on Snyder's behalf, while President Barack Obama held a rally in Detroit on Nov. 1 for Schauer. Both appearances underscored the tightness of the election and its national import. The state had faced calamity with the 2009 bankruptcies of two resident automakers, General Motors Co. and Chrysler Group LLC.
Class Enemy
Schauer, 53, portrayed Snyder, a former venture capitalist and computer company executive, as an enemy of the middle class who gave businesses a billion-dollar tax cut at the expense of retirees and working families, and who cut education funding by $1 billion. Snyder called the claim a lie, and countered that he increased funding to public schools.
Schauer, a former congressman and state lawmaker from Battle Creek, campaigned extensively in Democratic-dominant Detroit, where the takeover was viewed by many as a hostile act and where crime and a troubled schools were leading concerns.
Snyder called Schauer a culprit in Michigan's slide, linking his tenure in the legislature to the economic plunge of the early and mid-2000s and budgets that reduced education spending.
The governor, backed by a Republican-controlled legislature, has nurtured an image as an anti-politician more concerned with the bottom line than with partisan battles. He argued that he made taxes fairer for businesses and working families.
However, he infuriated Democrats by signing a right-to-work law, placing a new tax on pensions, and refusing to take a stand on same-sex marriage.