Midterms Break for Republicans With Few Exceptions
What was expected to be a tense night ends with a Republican parade of victories.
By and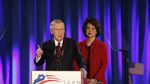 Republicans roared back in the midterm elections on Tuesday, capturing control of the Senate from Democrats, winning crucial governor races and solidifying their majority in the U.S. House. 
The night's biggest prize—control of the Senate—went to Republicans with Joni Ernst's victory in Iowa, giving her party its first majority in eight years. The GOP picked up seven Senate seats and more were possible, with Alaska still counting votes and Louisiana headed to a Dec. 6 runoff. The results ensured that Republicans will control both chambers of Congress for the remainder of President Barack Obama's term.
Republicans celebrated at parties around the country.  In Washington, D.C., Senate campaign chair Jerry Moran of Kansas hugged lobbyists and donors at the National Republican Senatorial Committee party.  In Kansas, staffers for incumbent Pat Roberts broke out their beers before final results were in.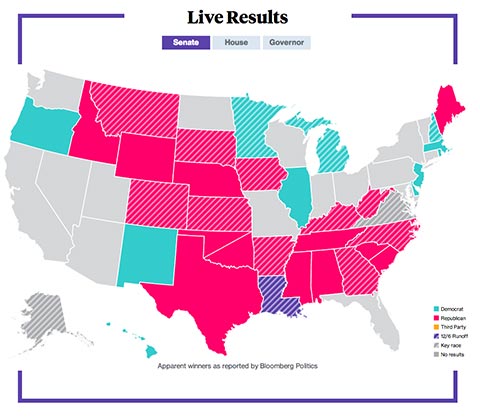 "It means great things for the United States Senate, and it means great things for the United States of America," Moran said as the crowd shouted, "USA! USA!"
Republicans also won gubernatorial races in important battleground states. Wisconsin's Scott Walker prevailed in his third governor's race in four years, raising his profile as a potential Republican presidential candidate in 2016. In Florida, Rick Scott was re-elected in a state where five of the past six presidential races have been decided by 5 percentage points or less. Illinois Republican Bruce Rauner claimed victory over incumbent Pat Quinn in Obama's home state. 
One of the night's biggest surprises was in Virginia, where early, unofficial returns showed Republican Ed Gillespie leading incumbent Senator Mark Warner, who had been favored.  But as the night wore on, Warner took a narrow lead.
Republicans also protected their seats in Georgia and Kansas, traditionally red states where polls had indicated unexpectedly competitive races.
The gains come just two years after stinging defeats at the polls forced Republicans to re-evaluate how they were recruiting candidates, raising money and reaching out to minorities. Tuesday's victories could start to answer some of those political questions, but it was clear the existential questions remained. There were already signs there would be divisions in a Republican-controlled Senate.
While Mitch McConnell of Kentucky has promised to find consensus as majority leader, Senator Ted Cruz of Texas, whose Tea Party support has made him one of Washington's most influential lawmakers, has said he wants Republicans to focus on repealing Obamacare.  He has refused to endorse McConnell as majority leader.
McConnell took the stage in a Louisville ballroom early in the evening and began a parade of Republican victors by claiming victory in his race against Democrat Alison Lundergan Grimes. "I don't expect the president to wake up tomorrow and view the world any differently than he did this morning," McConnell said. "He knows I won't, either." Obama has invited congressional leaders to a White House meeting on Friday afternoon.
Bloomberg Politics is reporting that Republicans flipped seven Senate seats previously held by Democrats.
Ernst, in Iowa, defeated Representative Bruce Braley.
State Representative Thom Tillis defeated Senator Kay Hagan in North Carolina.
Representative Shelley Moore Capito is the apparent winner of an open seat in West Virginia.
Representative Tom Cotton claimed victory in Arkansas over incumbent Mark Pryor.
Former Governor Mike Rounds prevailed in a three-way race for an open seat in South Dakota.
Colorado Representative Cory Gardner defeated incumbent Mark Udall, who conceded late Tuesday.
Montana Republican Steve Daines apparently won an open seat.
Democrats defended one competitive Senate seat, with Jeanne Shaheen apparently winning re-election over Scott Brown in New Hampshire. They were hoping that Warner could hold on in Virginia and Mary Landrieu of Louisiana could win a runoff Dec. 6 against Representative Bill Cassidy. 
Landrieu's campaign was ready to go, handing out signs targeting her challenger and unloading a message aimed at refocusing the campaign on Louisiana issues.  "This race is not about who the president is who the president was or who the president will be or which party controls Congress. This race is about the future of Louisiana," she told cheering supporters on Tuesday night.
In the U.S. House, the question was how much Republicans would expand their majority.  Their goal of 245 seats would give the party their largest majority since 1926. In the final weeks, Democrats shifted money to struggling incumbents, in a sign that the electoral climate had shifted.
As the final results rolled in, Republicans began spinning their victory as a step towards an even bigger goal: The White House in two years. "What it means is that we are winning in the tough races, and that bodes well for 2016," said Republican National Committee chairman Reince Priebus. 
Exit polls released early in the evening foretold a dismal night for Democrats. Results distributed by CNN showed a majority of voters–65 percent–said the country is heading in the wrong direction, while 53 percent said government was doing too much, a sign that more Republican-leaning supporters could be heading to the polls. And despite declining unemployment and other signs of a rebounding economy, 65 percent of voters said national economic conditions were "poor" or "not so good."
Fifty-four percent of voters said they disapproved of Obama in exit polls, a precise flip from two years ago when 54 percent said they approved of him, and a sign how toxic he has become for Democrats across the country.
Obama's low approval ratings weren't the only drag on Democrats this cycle. The party has had trouble turning out its voters in non-presidential elections, and the key Senate races this year mostly were in states that traditionally favor Republicans.
While Republicans focused efforts at nationalizing the congressional elections by turning it into a referendum on Obama, Democrats tried to combat their disadvantages by pouring $60 million in systems to turnout their voters. That effort was insufficient as the party lost its Senate race in Colorado, which Obama had won twice and is likely to be a key battleground in 2016.


The most expensive midterm in history, the election saw an unprecedented flood of outside money that overwhelmed airways in states with competitive contests. More than one million campaign ads were aired this cycle, according to data collected by Kantar Media/CMAG. North Carolina led the pack, with nearly 114,000 spots, followed by 97,000 aired in Iowa and nearly 88,000 in Kentucky. 
Hours before the first set of polls closed,  various factions of the Democratic party began jockeying for position in the next election. Progressives blamed the expected losses on a failure to promote liberal fiscal policies, such as the ones championed by Senator Elizabeth Warren of Massachusetts. 
"Democrats face an uncertain election tonight because too many ran too little and too late on Elizabeth Warren-inspired populist progressive priorities like expanding Social Security benefits, breaking up the big banks, and student loan reform that polls show are overwhelmingly popular with Americans," said Charles Chamberlain, executive director of the Democracy for America political action committee.
Others blamed the president's low approval rating for the difficult political climate–a charge the White House tried to refute while the polls were still open Tuesday afternoon. "Ultimately, you know, it's the quality of these candidates that is going to be the driver of their success in this election," said White House spokesman Josh Earnest. "The vast majority of voters are making a decision on Election Day based on the merits associated with the candidates at the top of the ballot."
But by the end of the night, Democrats were left little more than spin.
"The message from voters is clear: They want us to work together," soon-to-be former Senate Majority Leader Harry Reid of Nevada said. 
Chris Christoff, Peter Cook, Esme Deprez, Mark Drajem, Greg Giroux, Kathleen Hunter, Tim Jones, John McCormick, Jennifer Oldham, Zain Shauk, Duane Stanford, and Dave Weigel contributed to this report.