Making World Safe for Nude Selfies Seen at a Cost: Opening Line
Laurence Arnold and C. Thompson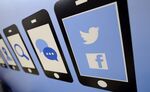 The man in charge of Islamic State's social-media campaign, according to the FBI, grew up in the Boston suburbs and studied computer science at Northeastern University and the University of Massachusetts Boston.
For an article on "the female recruiters of ISIS," New York magazine profiled one Umm Ubaydah, who by all indications is a legitimate Twitter user who moved to Syria from northern Europe to join Islamic State and now uses social media to remind other Muslims "that it is their obligation to do so."
Facebook and Twitter rewrote the rules of political campaigns, romance and charitable fundraising, so why not religious extremism and global terrorism? It's unsettling, to say the least, to think we have anything in common with bombers and beheaders, but by all indications they, too, spend their days with smartphones and hashtags.
"The extremists of Isis use messaging and social media services such as Twitter, Facebook and WhatsApp, and a language their peers understand," the director of the U.K. surveillance agency GCHQ, Robert Hannigan, wrote in an eye-opening column in Monday's Financial Times. Encryption technology that "were once the preserve of the most sophisticated criminals or nation states now come as standard," he added.
Hannigan's comments follow FBI director James Comey's criticism of Apple and Google for enacting new encryption features that will hamper criminal investigations, even if they also succeed in cutting down on the theft of nude photos and other private data.
As Amy Thomson and Adam Satariano report, this all puts U.S. tech companies on the hot seat. "Until now, police in many countries could ask companies like Vodafone Group Plc and Deutsche Telekom AG to decode traffic when they sensed a threat," she writes. "With U.S. tech companies holding the encryption keys, carriers can no longer do that."
Can something as valued as privacy really be taken to an extreme? Of course. (So can eating kale.) A Wired magazine report yesterday focused on darkcoin, "bitcoin's stealthier cousin," which is becoming the cryptocurrency of choice in the online black market for cocaine, LSD, ecstasy and other illegal drugs. Due to encryption, "it's nearly impossible for an outside observer to match up darkcoin payments with anyone's identity," the story says.
So at the risk of oversimplifying a complex topic -- it's what we do -- it seems our best and brightest are honing encryption methods that may help criminals and terrorists even as it protects the privacy of those who take nude selfies. That's some trade-off.
***
Today's main U.S. economic indicators include ADP's employment change numbers at 8:15 a.m. EST and ISM's nonmanufacturing index at 10 a.m.
U.S. earnings are due from Louisiana-Pacific, Time Warner, Nu Skin, Chesapeake Energy, Actavis, Duke Energy and Mondelez before the bell. After the bell come Qualcomm, Symantec, CBS, Whole Foods, Tesla Motors and Zillow.
Cardinal Health and Oracle hold annual meetings. WellPoint is scheduled to hold a special shareholders meeting for the purpose of changing its name back to Anthem Inc.
Overnight, HSBC and Markit Economics said China's composite PMI fell to 51.7 from 52.3. A short time ago, Markit said the U.K. services PMI fell to 56.2. In the euro-area, Markit's composite PMI rose to 52.1 from 52.
***
coverage of yesterday's elections. - Bernanke speaks at the Charles Schwab IMPACT conference in Denver at 6:45 p.m. EST. - BHP Billiton to export oil product from Texas without U.S. approval. - Police capture Jose Luis Abarca, the former Mexican mayor accused of ordering the kidnapping of 43 college students. - IMF and Kenyan officials hold a press conference on a possible new loan program at 4 p.m. in Nairobi, 8 a.m. EST. - Timothy Massad, U.S. Commodity Futures Trading Commission chairman, speaks at the Futures Industry Association's 2014 Expo in Chicago at 10 a.m. EST. - Mark Rutte, Dutch prime minister, visits Najib Razak, Malaysian prime minister, to discuss the investigation into the downed Malaysian airliner jet over eastern Ukraine. - Obama to confront Xi on cyber-spying, those amorphous "senior U.S. officials" tell Reuters. What is the point of leaking this in advance? - Military detainee from Afghanistan is tried in a U.S. court for the first time. - Ackman's Pershing Square wins right to vote its Allergan shares in proxy fight for company's board. - Ukraine mobilizes troops to eastern cities following vote in Luhansk and Donetsk. - A $4,000 fine ought to send a strong message to Adrian Peterson. - And OSHA's $7,000 fine ought to get billionaire Ken Feld to think twice about another dangerous, hair-raising circus stunt. - Amnesty International accuses Israel of war crimes in Gaza conflict. - Hawaiian lava flow stops short in one special place. - U.S. agrees to thousands more Iranian centrifuges in nuclear-power negotiations, Iranian website reports. - Kansas put on notice by federal judge that he's in favor of allowing same-sex marriage. - New Yorker tries to hire hit man for Florida job, suggests victim be fed to alligators. - Jimmy Savile compensation claims surpass 200, skeptical prosecutors tell U.K. court. - Norway spruce of 85 feet towering over barn in perfectly bucolic Pennsylvania setting identified as perfectly tragic sacrifice for Rockefeller Center Christmas tree. - Ray Rice begins his hearing to appeal his indefinite NFL suspension. - A-Rod agrees to squeal. - David Bowie proves being cool is the best way to remain cool.
***
Here in the U.S. on the day after we all enjoyed the privileges of democracy, even if not all of us exercised them, it's worth counting our blessings. No matter whose side you're on or whose side got the upper hand yesterday, the system worked, again.
Headlines that underscore our gratitude -- the forced marriages and slavery of the Yazidi women at the hands of their Islamic State captors, the Nigerian schoolgirls whom no one can find even six months later, the plight of women everywhere -- bring to mind specifically the young women in this society.
As with all of us fortunate enough to have been born here, male or female, girls here can grow up with potential spread out before them. Our sisters and daughters, all things being equal (which they're not), are going after the same things as the guys are as a matter of course now, which wasn't the case for all of our moms. There's a woman in the newsroom who arrived so many years ago not far out of college, and after taking one look at her news writing, one of us turned to her and said, "We'll all be working for you one day."
Sure enough, a lot of us are.
Caveats acknowledged -- for everyone everywhere whose fortunes ebb and flow as the Fates will allow -- there is still the comfort of hope here. At least hope.
But what if you're a young woman from a different land with less hope or no hope, with fewer options, with different Fates blowing your sails?
Frederik Balfour, Fitri Wulandari and Cathy Chan introduce us to two of them today, two young women who left home for Hong Kong to work with whatever they had, never to return.
***
You know it's bad when even Pimco's former parent company started heading for the exits in the wake of Bill Gross's departure from the investment company.
Pacific Life Insurance was among those who pulled a staggering $27.5 billion from Pimco's Total Return Fund last month, leaving the fund with assets now of $170.9 billion, down from a peak of $293 billion in 2013. That's almost 42 percent.
Pacific Life was joined by Prudential Financial, Mass Mutual, and the states of Alabama and Florida, Mary Childs reports. That giant sucking sound topped the $23.5 billion that fled in September. Previously, the biggest one-month withdrawal was $9.6 billion.
As a Pimco investor said to us about a month ago, after the September withdrawals were announced, it's hard to know what to do. They thought they were investing in a relationship, a track record, not just a bond fund.
How much further can the numbers fall? One investor tells Childs this could keep going into next year.
***
If you're looking for at least one concrete indication that the U.S. economy is what it says it is these days, just look at corporate earnings.
Say what you might about companies and their tendency at times to engineer earnings estimates in order to beat them, they still have to deliver, and this quarter they have. Well, last quarter.
Heavy industry, apparel, financial services, health care, even energy companies beset with the shifting sands of the crude-oil market have paced this earnings period to an 81 percent rate of exceeding estimates so far, Cécile Daurat reports.
You might call it an economic engine, or you might go even more old-school, like Brian Wesbury, chief economist at First Trust Portfolios, who refers to the third-quarter corporate performance as a "plow-horse" economy.
You might even name the horse Goldilocks, because the revenue growth has been just right.
"Everything is more prone to be more modest than robust. That's ultimately better," John Stoltzfus, chief market strategist at Oppenheimer & Co., tells Daurat. "If we have no boom, then we have no bubble, no bust. We'll take it."
Who wouldn't?
***
It turns out the emperor does have clothes. He also has a custom-designed Airbus jet and a 1,000-room palace four times the size of Versailles.
The emperor, we are learning, is Recep Tayyip Erdogan.
He has made the transition from prime minister to president handsomely, it appears, according to Onur Ant's exploration of the man who would be king. The palace was built illegally in a national park, but who's going to stop him?
"Whoever criticizes Erdogan and the ruling elite's behavior is labeled a betrayer of the nation," one observer at a New York-based consulting company tells Ant. Sound familiar?
Ant reports Erdogan told a meeting of the ruling AK Party in March that "no one can prevent the completion of this building. If they are powerful enough, let then come and demolish it."
And let them bring a little cake to eat. Or maybe some Turkish Delight.
***
Has your GPS been acting funny lately? Tune into WPLJ and instead start getting the news from Iceland? Are the Canadian geese in your neighborhood flying back to Canada?
If so, there might be a reason: The sun is belching magnetic whammies.
A renewed period of sunspots -- explosions of magnetic fields that can whack power grids and electronics -- is starting again to be hurled at Earth, Brian Sullivan reports in today's Weather Line. Aside from the going-haywire effect, these events also lead to more robust occurrences of the aurora borealis, for those of our readers in Fairbanks, Alaska.
It's not that bad yet, Sullivan writes, but in about a week it might have been worth it to check the batteries in your flashlights now. Or you might never notice a thing. Space weather: less predictable than weather weather.
***
"Professional soccer, the most popular spectator sport in the world, outside of girl watching, is coming to the U.S. in a big way," Time magazine proclaimed in 1967, when two new American leagues -- the National Professional Soccer League and the United Soccer Association -- were about to begin play.
Within a year, the two leagues had merged to form the North American Soccer League, which brought Pele to New Jersey, soccer to U.S. network television and a goalkeeper to the cover of Sports Illustrated. The league also over-expanded, overspent in wooing talented non-American players and, in 1985, shut down.
In the decades since, we've lost count of how many times soccer has been declared the Next Big Thing in American sports, with World Cup happy hours and over-subscribed youth leagues being cited as evidence of a corner having been turned. But -- quick, no Googling -- name the Major League Soccer franchises in Chicago and Houston. (That would be the Fire and the Dynamo.) Heck, name the team that plays in view of the Manhattan skyline. (The New York Red Bulls of Harrison, New Jersey.)
As Mason Levinson reports today, soccer's inroads in America are real, but so is ongoing skepticism about its appeal. That's why the young players at YSC Academy near Philadelphia -- a high school offering "world-class soccer training" -- already can name the European teams they hope to play for.
Where those early leagues of the 1960s and 1970s brought world talent to play before American audiences, YSC readies top American talent to play in the world. That way, at least, supply and demand align: Levinson reports that average salaries in the U.K.'s Premier League are around $2.5 million, about 11 times the average pay in the U.S. league, MLS.
Still in question, Levinson writes, "is whether the sport will become popular and wealthy enough to become a great game in America."
As believers in history, we'll stick with "no."
Before it's here, it's on the Bloomberg Terminal.
LEARN MORE