Low-Cost Inflatable Incubator for Infants Wins Dyson Award
By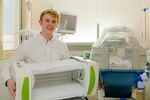 More than a million babies die from complications of premature birth, including hypothermia, according to the World Health Organization. Three-quarters of those deaths could be avoided with simple interventions, and James Dyson has chosen an inflatable incubator for use in refugee camps as the winner in his international design competition. The inventor, James Roberts, hopes he can make his inflatable device, which he dubs MOM, affordable enough to be used in the developing world where such technology is most needed.
At the moment, MOM costs about $400 to manufacture but does the work of a $45,000 modern incubation system. That's still more expensive than a solution like Embrace, a cocoon-like sack made from phase-change material that stabilizes the temperature of a baby with hypothermia. Roberts, however, says that his design is more effective and hygienic, as it shields the infant from being touched and digitally displays the exact temperature inside.


MOM is blown up manually and heated using ceramic heating elements. A screen shows the current temperature, and the humidity can be custom set. There is also a collapsible phototherapy unit for babies suffering from jaundice. "I particularly like the integration of phototherapy, as jaundice is a very common co-morbidity alongside prematurity," Dr. Bernie Marden, a pediatrician at the Royal United Hospital, Bath, says in Dyson's press release. "Its use needn't be limited to developing world scenarios. I could see it being used in the UK to support community midwifery units, or following home births."
Since MOM can be deflated when not in use, it takes up less space and is easier to transport than a conventional incubator. The pocket of air between the two layers of plastic also helps insulate the interior.
Roberts, a 23-year-old recent grad from Loughborough University in England, was inspired to reinvent the incubator after seeing a documentary on Syrian refugee camps. To buy the materials to prototype his concept, he sold his car for about $10,000. "That was really painful," he says.
Now, he'll use the $45,000 award to further test his idea, consult with experts, and hopefully, collaborate with a manufacture to lower production costs. "I've been approached by some companies that want to help me do it—a few American ones, actually," he says.
Before it's here, it's on the Bloomberg Terminal.
LEARN MORE