Kanye Followed Kim's Lead and Weighed in on the Midterms
Kanye West tweeted that he's voting for "the Democratic ticket."
By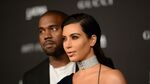 We're gonna let you finish voting, but Kanye West wants you to know that these midterms are extremely important.
West fired off four tweets endorsing "the Democratic ticket" Tuesday evening and encouraged people to vote.
It's a little late to start a get-out-the-vote campaign (several states don't allow same day registration, and some polling places have already closed) but his wife has been more involved.
Reality star Kim Kardashian tweeted Monday that she's standing with President Obama, leaving some to wonder if she knows that the president isn't on the ballot. Kardashian linked to a site that provides information on state voting guidelines and polling places, giving her followers a little lead time to get to the polls.
Her support of Obama is surprising when you consider that the Obamas haven't been the couples biggest fans. In 2011, Obama said he didn't approve of his kids watching the reality show "Keeping Up With the Kardashians," and he's called West a "jackass" more than once.  
But that hasn't stopped Kardashian from being involved, especially in smaller races. Earlier this year, Kardashian endorsed Democrat Marianne Williamson, a self-help guru who made a failed bid for retiring Democratic Representative Henry Waxman's seat in California.