Japanese Buy All Kepco Debt at Zero Spread on BOJ: Korea Markets
Kyungji Cho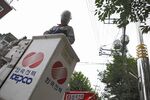 Japanese investors are snapping up South Korean corporate debt at the same yields as sovereign notes using cash pumped into the system by the Bank of Japan.
Korea South-East Power Co. sold 100 billion won ($92 million) of three-year notes with no premium over similar government bonds on Oct. 30. A Japanese bank bought all the bonds in the unit of state-backed Korea Electric Power Co., people familiar with the sale said.
The inflow looks set to accelerate after the BOJ's Oct. 31 surprise expansion of monetary stimulus drove yields in Japan to the least since April 2013 and sent the yen to a six-year low versus the Korean won. The 2.33 percent average yield on South Korean AA notes compares with 0.16 percent for similar-rated Japanese debt, and supply is limited as President Park Geun Hye curbs offerings by state-owned enterprises.
"Japanese investors' funding costs might have been very low at home, which may enable them to buy Korean corporate bonds with a fair return," said Kim Eun Gie, a credit analyst at NH Investment & Securities Co. in Seoul. "They prefer SOEs or high-quality, well-known names, whose domestic ratings are AA or above, such as Kepco's affiliates, LG and Lotte Group."
Korea South-East Power, rated AAA locally, also sold 110 billion won of five-year securities at 4 basis points over the sovereign on Oct. 30. The average yield premium for South Korean three-year won bonds rated AA- fell to 28.9 basis points Oct. 30, the lowest since February 2007, Bloomberg-compiled data show.
SK Issue
Korea Expressway Corp., after ditching plans to sell offshore dollar bonds on Oct. 27, raised 170 billion won selling 20-year won-denominated securities on Oct. 30 at 2.956 percent. Similar-maturity government bonds yielded 2.87 percent on the day.
SK Telecom Co., South Korea's No. 1 mobile-phone operator and whose local rating is AAA, raised 500 billion won on Oct. 28 selling five-, seven-, 10-year notes priced to yield 2.526 percent, 2.658 percent and 2.818 percent respectively, the company's lowest borrowing costs yet for similar paper.
Japanese megabanks Mitsubishi UFJ Financial Group Inc., Sumitomo Mitsui Financial Group Inc. and Mizuho Financial Group Inc. increased overseas loans an average 64 percent to 66 trillion yen ($574 billion) in June from March 2012, versus average growth of 14 percent in their combined loan books, according to Francis Chan, a Bloomberg Intelligence analyst.
'Better Return'
"Japanese investors have been taking part in Korean corporate bond sales because they may offer better returns amid a weakening yen," said Kim Sang Hun, a credit analyst at Shinhan Investment Corp. in Seoul. "We expect the domestic corporate premium to be kept low next year considering there's very little chance of credit events or increasing supply." Kim predicts the average spread to range from 25 to 35 basis points.
Combined loans at all Japanese bank branches in Korea almost doubled to 17.9 trillion won in the four years through 2013, Financial Supervisory Service data show. Their combined securities holdings were about 11 trillion won as of March 31, according to Korea Federation of Banks data.
The BOJ's unprecedented monetary easing has helped push average Japanese corporate bond yields to their lowest in 11 years at 0.32 percent on Nov. 4, according to Bank of America Merrill Lynch data.
The yield on benchmark three-year won-denominated government bonds held at an all-time low of 2.09 percent Nov. 5. Economists said the BOJ's decision to ease monetary policy further may increase pressure on South Korea's central bank to cut its benchmark interest rate again. The won has gained 5.2 percent against Japan's currency this year.
"Government bond yields aren't expected to jump anytime soon," Lee Do Yoon, the Seoul-based head of fixed income at Samsung Asset Management Co., the country's biggest money manager with 131 trillion won in assets, said by phone Oct. 31. "Against this backdrop, buying corporate bonds to target higher yields may be a good option for now."
Before it's here, it's on the Bloomberg Terminal.
LEARN MORE