Goldman's Blankfein Sees China's Century After Growth Transition
Bloomberg News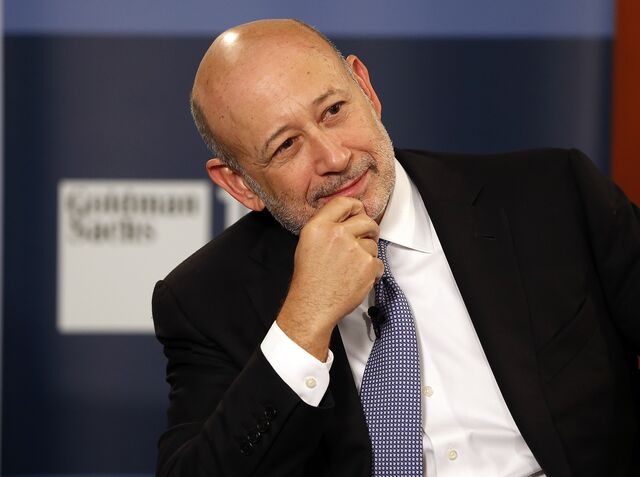 China is in transition as it grapples with the byproducts of headlong growth such as corruption and pollution, Goldman Sachs Group Inc.'s Lloyd Blankfein said, expressing optimism in the nation's outlook.
An expansion rate up to 7 percent is a "regular, normal" one for China, while expansion levels from 7 percent to 10 percent were accompanied by a "loss of discipline," Goldman's chief executive officer said in a video on the company's website after a recent trip there.
China's economy is headed for its slowest full-year expansion since 1990 as the government cracks down on corruption, pushes pro-market policies, and seeks to lower debt risks. That's down from more than 10 percent rates often achieved since the nation opened up in the late 1970s.
"I continue to believe that the long-term trajectory of China is up," Blankfein said. "I can't be sure that 2014 is going to be China's year, or 2015 will be China's year, but I have no doubt that this will be China's century."
Blankfein met with Chinese entrepreneurs "very similar" to U.S. peers, he said.
"You could have closed your eyes and imagined that you were either in Silicon Valley or China based on the level of conversation you were having there," he said.
He also attended an event at the Tsinghua University's economic management school, where he is a member of the school's international advisory body along with executives such as Apple Inc. Chief Executive Officer Tim Cook and Facebook Inc. Chief Executive Officer Mark Zuckerberg.
China Roots
Goldman Sachs became the first Wall Street firm to start underwriting securities in China after winning a license in 2004. The New York-based bank also has private-equity, asset management and institutional brokerage businesses in the world's second-largest economy.
Blankfein didn't mention Goldman Sachs business in China in the video.
China's GDP rose 7.3 percent in the July-September period from a year earlier, the statistics bureau said last month. While that exceeded the 7.2 percent median estimate in a Bloomberg News survey of analysts, it was also the slowest expansion since the first quarter of 2009.
While such a pace is a slowdown for China, it wouldn't be almost anywhere else in the world, said Blankfein.
"If you are going to grow, again, up to 7 percent, fine; the next three percent of growth is going to happen because you run your factories flat out and you don't put pollution controls on," he said. "If you're going to stimulate and drive that kind of growth, and spend that kind of money so quickly, it maybe an indiscipline in the decision-making process, and there may be some corruption."
— With assistance by Xin Zhou
Before it's here, it's on the Bloomberg Terminal.
LEARN MORE