From Yes We Can to Probably Not
President Barack Obama faces a final two years in office during which small-bore bargains will replace hope-and-change.
By and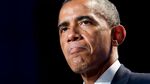 Confronting unified Republican control of both houses of Congress for the first time during his administration, President Barack Obama faces a delicate dance as he moves forward: how to fight his Republican adversaries when there's political value while at the same time trying to rebuild long-since burned bridges to lawmakers in the party.
White House officials said the administration is determined to avoid fading into lame-duck irrelevance and won't pull back from using executive action to overcome congressional roadblocks. The president, in fact, will proceed with plans to announce a new directive on immigration before the end of the year, Press Secretary Josh Earnest said on Tuesday.
The greatest promise for common ground lies in a series of small-bore initiatives, including infrastructure building, criminal sentencing reform, and trade agreements. Large-scale tax reform, a goal both political parties promote, faces longer odds. Any sort of grand bargain on the country's long-term budget challenges, an elusive ambition after Democrats lost their majority in the House in 2010, is out as well. Democrats on Capitol Hill and their colleagues in the White House don't see an opening likely to emerge on a broad immigration overhaul proposal.
 The administration's ability to win any significant legislative achievement in the remainder of Obama's terms will largely depend on the political calculations of Republican congressional leaders. Just as time is running out on Obama's chance to further his legacy, Republican leaders also bear full responsibility for Congress's record heading into a 2016 election with many of its party's Senate incumbents facing re-election in Democratic leaning states and a wide open presidential contest.
"What you have here is very likely two windows closing simultaneously on the administration's side and on the Republicans side," said Joel Johnson, a veteran of the Clinton White House. "Is the atmosphere too polluted to allow them to start fresh? I think we'll know pretty quickly in the New Year."
Both sides offered gestures on Election Night. The White House extended an invitation to congressional leaders from both parties to meet with the president on Friday. The presumptive Senate Republican leader, Mitch McConnell of Kentucky, said at a victory party that he and the president have "an obligation to work together" on issues where they can forge agreement. "I don't expect the president to wake up tomorrow and view the world any differently than he did this morning," McConnell said at a victory celebration. "He knows I won't either."
The White House staff has been grappling for weeks with how to respond to the new political reality.
"The White House should view this as an opportunity—where can we get things done," says Doug Heye, a former senior adviser to then-Majority Leader Eric Cantor, a Virginia Republican, until earlier this year. "If they just want to score political points, they'll be able to do that and they'll be able to do that effectively politically, but with no net result for legislative accomplishments and no net result for Obama's legacy."
Obama's immediate predecessor, George W. Bush, pressed forward with a surge of troops in Iraq despite a wave of anti-war sentiment that Democrats rode to gain control of Congress in 2006. Bill Clinton gained seats in his final midterm election and defeated a Republican attempt to use impeachment proceedings to remove him from office.
The hurdles for Obama are clear. More attention is paid these days to the parlor game of who he might fire or quietly allow to leave his orbit than the dozens of executive actions he has put into place over the past year. Foreign policy crises that have blown up over the past year dog his every move. A perception of mismanagement has taken hold in the wake of a series of domestic wounds ranging from the self-inflicted (Healthcare.gov), to the uncontrollable (leaks that led to wide scale mistrust of U.S. intelligence collection activities), to the largely overblown (Ebola.)
The result has been approval ratings that have sat in the low-40s throughout much of the last year. Democratic candidates, even as Obama raised major sums of money for their campaign, wouldn't campaign with him. Poll after polls has shown confidence in government at historic lows—something Obama himself acknowledges. "All of this adds together to a sense on the part of folks that the institutions they rely on to apply common-sense decisions and to look out for working families across the country, that those institutions aren't working the way they're supposed to," Obama said at an Oct. 21 fundraiser in Chicago.
The potential avenues for progress are far from the transformative legislation Obama spearheaded in his first years in office. Instead, aides on both sides of Pennsylvania Avenue view them as a way to achieve some semblance of governance. "A new Republican majority wouldn't mean we'd be able to get everything you want from Washington," McConnell said last week in the weekly Republican radio address. "But it would mean we'd be able to bring the current legislative gridlock to a merciful end."
On trade, where Senate Democrats have balked at giving Obama the fast-track authority he has requested to arm his negotiating team with the strongest hand, the president has a willing partner in Republican leaders. One of those trade deals—the Trans Pacific Partnership—is a central tenet to what remains one of Obama's great pushes of his time in office: a U.S. pivot to Asia, where he heads next week.
Still, there is trepidation on both sides, even on those issues where general agreement exists. White House aides are skeptical that Republicans will suddenly want to come to the table after years of seemingly rejecting everything Obama touched. Among Republican lawmakers and staff, the feeling is, if possible, even less optimistic, according to party aides. The issue is trust and relationships, neither of which Republican leaders feel like they have with the current administration. Changes to Obama's legislative operation have been welcome and positive, aides say, most notably the decision to move Katie Fallon, a former top Senate aide, to run the shop. But in a heated election cycle where attacks have been commonplace from both sides, little overall progress has been made.  "There are no relationships with which to have any trust," said Heye.