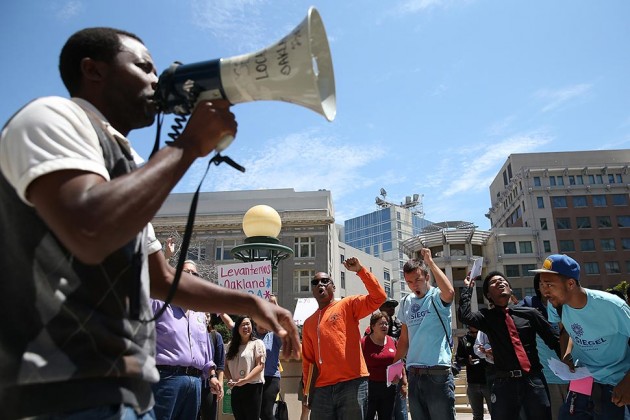 Voters in four red states, as well as two California cities, approved minimum wage hikes on Tuesday, rare good news for liberals in a midterm election rife with disappointments. Ballot initiatives that passed yesterday will raise the wage floor to $8.50 in South Dakota next year, to $9.00 in Nebraska and $9.75 in Alaska by 2016, and to $8.50 in Arkansas by 2017. In all of those states, Republicans were declared or projected the winner of yesterday's contests for U.S. Senate.
"The only bright spot—and the Democrats would do well to pay attention to it—was these victories, in which people got to vote in a sense for their own betterment, and they did," says Dan Cantor, who directs the labor-backed group Working Families. "Inequality, in a sense, was on the ballot." That populist sentiment didn't forestall a disastrous night for Democratic incumbents, Cantor contends, because "the jobs crisis is gigantic and the recovery is crappy," and "Democrats have bought into neoliberal austerity economics too much."
Along with the red state wage hikes, Massachusetts became the third state to require companies to provide paid sick days; citywide sick pay ordinances also passed in Trenton, N.J., Montclair, N.J., and Oakland, Calif. Non-binding referenda recommending minimum wage increases passed in Illinois and appear to have succeeded in nine counties and four cities in Wisconsin, even as anti-union Republicans triumphed in those states' governors' races. One minimum wage hike, to $12.00 in Eureka, Calif., appears to have failed last night. But two Golden State cities approved much higher wage floors, passing initiatives that will raise pay to $12.25 in Oakland and—by 2018—to $15 an hour in San Francisco.
That $15 figure isn't an accident. It's been a rallying cry of fast-food workers and other low-wage employees who've staged a series of high-profile strikes, beginning with a one-day walkout in New York two years ago this month. Service Employees International Union President Mary Kay Henry, whose union has been the primary player funding and directing that campaign, says striking workers have played a role in winning new wage laws similar to the role lesbian, gay, bisexual, and transgender Americans played in building support for marriage equality by coming out of the closet. "People had the guts," she says, "to put their heads up and tell their story."
Before it's here, it's on the Bloomberg Terminal.
LEARN MORE