Dollar-Store Chains Find Smokers Are Some of Their Best Shoppers
Matt Townsend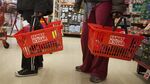 Unlike supermarkets and drugstores, dollar-stores chains are relative newcomers to selling cigarettes. Yet they've quickly discovered that smokers are some of their best customers.
Dollar General Corp. and Family Dollar Stores Inc., the two largest dollar-store chains, began adding cigarettes in 2012 and 2013. Their push into tobacco comes at a time of increasingly pressure to drop the products. CVS Health Corp. has won kudos for ending tobacco sales this year, and state attorneys general have called on other companies to do the same.
Dollar-store customers are more likely to be smokers than typical Americans, making it a hard market to resist. At Family Dollar, about a quarter of customers smoke and that rises to 35 percent among the chain's most frequent shoppers, said Bryn Winburn, a spokeswoman for the Matthews, North Carolina-based chain. That compares with just 18 percent of all U.S. adults, according to the Centers for Disease Control and Prevention.
"We have no plans to alter our decision to sell tobacco," Winburn said. Family Dollar only got into the market after customers urged the company to offer cigarettes. "We listened," she said.
After Family Dollar starting selling cigarettes in 2012, Dollar General entered the market the following year. The companies have almost 20,000 locations combined, making them two of the largest retailers in the country. They've also been locked in a three-way merger battle with the industry's other major chain, Dollar Tree Inc., which doesn't sell tobacco.
Like Family Dollar shoppers, Dollar General customers smoke at higher rates than the general public, said Mary Winn Pilkington, a spokeswoman for the Goodlettsville, Tennessee-based chain.
"We don't have any plans to eliminate tobacco," Pilkington said. "We just added it."
Before it's here, it's on the Bloomberg Terminal.
LEARN MORE