Christie Faces 2016 Decision With Chits to Call In
Elise Young and Terrence Dopp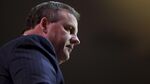 New Jersey Governor Chris Christie, who visited 19 states in the five days leading up to yesterday's elections to rally support for fellow Republicans, can rest on a stack of owed political favors.
"I'm on two hours' sleep," he said today on "Good Morning America," on ABC-TV. "Fair to say, what I'm looking for is a nap."
Republicans, who dominate the U.S. House of Representatives, captured the U.S. Senate and added at least two governor's offices to the 29 they control. As the party's possible 2016 presidential contenders seize on the momentum, Christie, 52, has early national exposure and donor appeal, having raised a record $102 million for races as chairman of the Republican Governors Association.
"Certainly those governors who won are going to be very appreciative of all the work the RGA did," Ben Dworkin, director of the Rebovich Institute for New Jersey Politics at Rider University in Lawrenceville, said by telephone. "That can only benefit Chris Christie and his national ambitions."
As he appeared on five national television news shows this morning to talk about the Republican wins, the often outspoken Christie declined to take credit for them. He said that while the RGA helped raise money and awareness, it was the candidates who deserved the recognition.
National Aspirations
Christie, who told CNN and Fox News last month that he would announce a decision on a presidential run early next year, gave no hint on what the party's new dominance will mean.
"There's no rush in making this kind of decision," he told CNN this morning. "There's three questions I'll ask myself: Is it right for me? Is it right for my family? Is it right for my country?"
Christie's fundraising tour took him to 37 states in 11 months. On Nov. 3, the day before the election, his schedule included stops in Rhode Island, Michigan, New Hampshire, Connecticut and Maine. Michigan and Maine went to the Republican incumbents, Rick Snyder and Paul LePage.
"In the states where the candidates he stumped for won, he now has a huge political debt to collect," Brigid Harrison, who teaches political science at Montclair State University in Montclair, New Jersey, said by telephone. "He can walk in there and say he helped win that election."
Christie Owed
Democrats defeated Republicans in at least two of Christie's three other last-minute states: in Rhode Island, Gina Raimondo over Allan Fung; and in New Hampshire, Jeanne Shaheen over Scott Brown. In Connecticut, Democratic Governor Dannel Malloy and Republican Tom Foley were deadlocked.
"Both people who won elections and those who didn't win will owe Chris Christie," Harrison said. "Just because they aren't governor doesn't mean they can't help him with fundraising and organization."
Christie was the first Republican governor elected since 1997 in a state where Democrats outnumber the opposing party by more than 700,000 registered voters.
Last year, he won a second term after defeating Democrat Barbara Buono by 22 percentage points. His popularity in New Jersey has slid since e-mails showed in January that an aide and an ally arranged traffic jams in September 2013 at the George Washington Bridge in Fort Lee, where the Democratic mayor didn't endorse the governor for re-election.
Blue State
The governor has tried to move past the bridge affair with public appearances, including stumping across the country. Christie said today that all of the travel has given him a feel for what it would be like to run for president.
Christie cited yesterday's wins of Republicans Bruce Rauner in Illinois, Charlie Baker in Massachusetts and Larry Hogan in Maryland, all states that historically lean Democrat.
"As a blue-state governor myself and as a Republican, I was particularly gratified," Christie said on CNN. Though he told interviewers this morning that his focus was on the governor's races, he said Democratic President Barack Obama "took a beating last night."
"It's time to sit down with Mitch McConnell and John Boehner and lay out an agenda for the country that you can agree on," Christie, referring to the Senate minority leader and the House speaker, said on "Good Morning America."
"The president needs to lead," he said. "I've been urging him to do that for years."
Matthew Hale, a professor of political science at Seton Hall University in South Orange, said Christie's campaigning as chairman of the RGA gave him access to both donor lists and networks of potential campaign operatives that he can now turn to should he run for president.
"It's a good day to be Chris Christie and a good day to be a Republican," Hale said. "I think he's really going to cash in on all that work he did outside of New Jersey."