American Realty Accounting Errors Roil Real Estate Empire
Prashant Gopal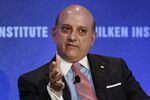 The accounting scandal at American Realty Capital Properties Inc. is threatening to upend a real estate empire built by Nicholas Schorsch in an industry where reputation propels growth.
The disclosure last week that accounting errors were intentionally concealed at the real estate investment trust, leading to the resignation of two executives, has erased almost $4 billion in market value, sparked an FBI investigation and a review by the Securities and Exchange Commission. It also is leading some brokers to halt sales tied to Schorsch's AR Capital LLC, the biggest sponsor of nontraded REITs.
The accounting mistakes are weighing on other parts of the web of companies created by Schorsch, the 53-year-old chairman of New York-based American Realty Capital Properties and its chief executive officer until last month. The REIT now faces the challenge of regaining investors' trust, as does AR Capital, which uses brokers to sell shares to individual investors who only need Google to find the recent travails.
"It's the intentional nature of the error" that raises concern, said Kevin Gannon, president and managing director at Robert A. Stanger & Co., a Shrewsbury, New Jersey-based investment bank that compiles data on nontraded REITs. "This industry is all about credibility. People will raise money for you but they have to be confident that you're a straight shooter. We hope they demonstrate that this is an isolated incident."
Schorsch wasn't available for comment, according to a spokesman for AR Capital. Andy Merrill, a spokesman for American Realty Capital Properties, didn't respond to an e-mail sent yesterday afternoon.
Nontraded REITs
Schorsch, whose fortune grew from his family's Pennsylvania scrap-metal business, established himself in the $60 billion-plus industry for nonlisted REITs, which don't trade shares on stock exchanges and mainly attract money from mom-and-pop investors who want to avoid the volatility of the stock market. AR Capital sponsors more than a dozen investment offerings, according to its website.
AR Capital, co-founded by William Kahane, has raised almost $20 billion in nontraded equity REITs since 2008 and $6.4 billion this year through September, the most in the industry, according to data from Stanger.
RCS Capital
Another Schorsch company, RCS Capital Corp., is an investment firm with businesses including raising money for AR Capital and other nontraded REITs. That company -- whose shares have plunged more than 40 percent since the news of the accounting issues on Oct. 29 -- this week pulled out of a deal to buy American Realty Capital Properties's Cole Capital private-capital management unit.
RCS, where Schorsch is chairman, today took steps to distance itself from American Realty Capital Properties, emphasizing that it's a separate company from American Realty Capital with a distinct board and management. RCS learned of the accounting matters with the rest of the market on Oct. 29, the company said in a statement.
The stock rose 5.4 percent to $11.50 at 10:02 a.m. New York time. American Realty Capital Properties gained 1.4 percent to $8.18, paring its losses since last week to 34 percent.
American Realty Capital Properties, started in December 2010, was a company sponsored by AR Capital. It began trading in September 2011 at $12.50 a share, raising almost $70 million, and from there went on a flurry of real estate purchases that made it the largest U.S. owner of single-tenant buildings such as drugstores, banks and restaurants.
Deal Spree
The REIT has completed more than 20 acquisitions since its inception, according to data compiled by Bloomberg. The company's stock price rose to as high as $17.82 in May 2013.
"There were many people in the space who raised concerns about very rapid growth," said Barry Vinocur, the editor of REIT Wrap, an industry newsletter. "When you grow that rapidly the risk is things may fall through the cracks. Then, there were those who downplayed those concerns saying those raising them were envious."
American Realty Capital Properties's acquisitions include the $9.85 billion takeover of rival Cole Real Estate Investments Inc., which Schorsch likened to a merger of baseball rivals the Boston Red Sox and New York Yankees. It also bought nontraded REITs that were started by AR Capital, buying American Realty Capital Trust III for more than $2 billion in cash and stock, and American Realty Capital Trust IV in a deal valued at $3.1 billion when it was announced.
Red Lobster
This year, the company purchased about 500 Red Lobster locations for about $1.5 billion as part of Darden Restaurants Inc.'s sale of the restaurant chain to Golden Gate Capital.
Chief Financial Officer Brian Block and Chief Accounting Officer Lisa McAlister resigned after a company probe found that an error made in first-quarter results was intentionally covered up in the second quarter. The mistake was relatively small -- reducing adjusted funds from operations by about $23 million -- for a company that owns more than 4,400 properties.
"The stock appears to be trading at a level that's discounting a list of concerns," said Paul Adornato, a managing director at BMO Capital Markets in New York, who cut his rating on the shares to market perform from outperform. "On the flipside, there is a tangible portfolio of real estate underlying the stock. The question is: What's the appropriate discount given the uncertainties and when we will get resolution on these items?"
Broker Sales
The concerns are spilling into AR Capital. LPL Financial Holdings Inc. said yesterday it is indefinitely suspending sales of investment products sponsored by companies tied to American Realty and RCS. Securities America, a broker-dealer with more than 1,800 advisers, also has suspended sales for two REITs --- Cole Capital Properties V and Phillips Edison - ARC Grocery Center REIT II, the company said in a statement.
Sandlapper Securities LLC, an independent broker-dealer based in Greenville, South Carolina also suspended orders for AR Capital REITs, CEO Trevor Gordon said in a phone interview.
"This accounting error is very troubling to us," Gordon said. "Is this an isolated incident or a systemic problem? We're stepping back at this moment in time. We're not terminating our agreement but we're suspending new purchases for the time being."
Conference Call
Schorsch told brokers on a conference call last week that the accounting errors at American Realty Capital Properties don't affect AR Capital programs or those by Cole, according to a report in InvestmentNews.
Ron Edde, CEO of San Diego-based Millennium Career Advisors, a recruiting firm for financial advisers, said the recent headlines make brokers that sell to individual investors nervous.
"Any time your firm gets a public black eye, especially a high-profile black eye, that makes clients nervous," Edde said. "It makes brokers nervous because they don't want to lose clients. No broker in any firm wants to see their nose bloodied in the press."
Larry Cohen, owner of Scottsdale, Arizona-based The REIT Advisor, which matches sellers of non-traded REITs with buyers, said he has been getting contacted by owners of AR Capital REIT shares since the accounting news broke.
Nervous Investors
The shares are trading at about 25 percent off the current value, he said. "Our phone has been very active with calls from individual investors saying, 'Oops, I made a mistake. How can I get out of this?'" Cohen said. "These people are nervous. They don't know what they own. They're unsophisticated investors to begin with."
RCS shares fell 20 percent yesterday. Investors are likely concerned that the accounting errors at American Realty Capital Properties will lower the amount of equity it can raise and fees it will generate, said Gannon of Robert A. Stanger.
Andrew Backman, managing director of investor and public relations at RCS, said the company is working closely with broker-dealers that have sought clarity on the situation.
"Based upon our discussions, it is evident that broker dealers understand the value of RCS distributed products and are eager to work aggressively with us to resolve any outstanding questions in the very near term," Backman said in a statement.
RCS may have broken off the Cole purchase because the issues at American Realty Capital Properties could spill over to Cole Capital, tainting efforts to sell shares of its nontraded real estate investment trusts, said BMO's Adornato.
Due Diligence
"Most of the independent broker-dealers that sell nontraded REITs have some due-diligence effort in order to vet the sponsors of the nontraded REITs," Adornato said in a telephone interview from New York. "It would be difficult if not impossible for any broker to sell shares in any Cole product until the investigation into ARCP/Cole's financial controls is satisfactorily completed."
American Realty Capital Properties said in a statement that RCS's attempt to terminate the agreement is a breach. Schorsch wasn't involved in the process of calling off the sale, Backman said earlier this week.
Gannon said Schorsch has been a positive force for the industry, lowering fees that were criticized for eating into returns, and seeking opportunities for faster exits so that investors could realize profits or get liquidity.
"We want to believe these guys are good guys -- I've met them and didn't have any reason to suggest an issue like this," Gannon said. "Hopefully they will weather this and come out of this OK."
Before it's here, it's on the Bloomberg Terminal.
LEARN MORE