When Will the Pain End for JPMorgan Chase?
By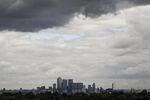 The largest bank in the U.S. indicated on Monday that its legal and regulatory troubles are far from over. JPMorgan Chase faces a swelling criminal investigation into foreign exchange trading, so the bank's shareholders should be bracing for even more pain.
JPMorgan said that it is cooperating with investigations underway at the Justice Department, the Commodity Futures Trading Commission, and the U.K. Financial Conduct Authority, among others, and warned that losses related to all of its legal issues could reach up to $5.9 billion, which is $1.3 billion higher than it previously said. The bank has already paid eye-popping sums to settle other criminal and civil investigations, including a $13 billion settlement with the DOJ last year over fraudulent mortgage securities, $1.7 billion over its handling of the accounts of Bernie Madoff, and $920 million over the London Whale trading losses.
Rather than viewing these fines and penalties as one-time expenses that come up only under extraordinary circumstances, investors might want to start thinking of them as the ongoing price of being a large, complex financial institution during the present day.
Fines and settlements and criminal and civil regulatory probes have become a regular part of life on Wall Street, whether because line-crossing is a part of a culture that has proven impossible to change, because the government has incentives to pursue the financial industry, or some combination of the two. According to the Wall Street Journal, Citigroup, Royal Bank of Scotland, Barclays, and HSBC have all set aside large chunks of money to settle investigations into the manipulation of foreign exchange rates.
In almost every case, the penalties have fallen on the companies and their shareholders, rather than on the individuals who committed the crimes. Outgoing Attorney General Eric Holder insists that even though six years have passed, the DOJ may still charge individuals over crimes pertaining to the financial crisis. "We have ongoing investigations that may perhaps produce individual prosecutions," Holder said at an event in Washington last week. He added that he would love to see Denzel Washington play him in any movie version of Holder's life.
Before it's here, it's on the Bloomberg Terminal.
LEARN MORE