What's at Stake in This Election?
Seven crucial issues, from the people who care about them most.
By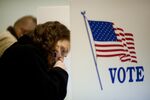 Combine the millions of dollars worth of (mostly) negative advertising, the mailers, the robo calls, and the overly earnest get-out-the-vote volunteers at the front door and you can scarcely blame weary voters for asking whether Tuesday's election matters. Some folks even argue that this is the least important election in years.