West Africa Short 75 Percent of Needed Beds for Ebola
Jason Gale and Makiko Kitamura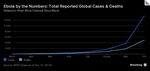 The countries most affected by the Ebola outbreak in West Africa are still lacking about three-fourths of the treatment beds needed for patients, the World Health Organization said.
As many as 4,388 beds are required in 50 Ebola treatment units across Liberia, Sierra Leone and Guinea, and there are now 1,126 beds, about 25 percent of the necessary capacity, Fadela Chaib, a WHO spokeswoman, told reporters in Geneva today. Twelve of 28 laboratories needed are operational, and 20 more foreign medical teams are needed to staff existing treatment centers, she said.
While empty beds exist at some treatment centers in Liberia, it's important to maintain overcapacity as new cases can appear anywhere across the country, Bruce Aylward, the WHO's assistant-general in charge of Ebola responses, said last week. International responders to the crisis have a Dec. 1 target to isolate 70 percent of cases and bury 70 percent of dead bodies safely.
"We will try to get as close as possible to our target by Dec. 1 to see if there is a decline in numbers in the three countries and if this is sustained and really evidence-based," Chaib said.
Even as the rise in new cases is slowing, the WHO isn't revising its estimate of as many as 10,000 new Ebola cases a week by December, Chaib said. That estimate was for planning purposes and to prepare for a "pessimistic" situation that assumed nothing was done to improve efforts in the three worst-affected countries, she said.
Koinadugu district in northeastern Sierra Leone recently had its first cases of Ebola, showing the outbreak is still spreading, the WHO said last week.
In Mali, which reported its first Ebola case last month, no new cases have been reported to the WHO, Chaib said. The agency is following up with 108 contacts in Mali to track any spread after a two-year-old died from the virus. The group is also providing training for safe burials and helping hospital staff prepare to triage any additional cases, she said.
Before it's here, it's on the Bloomberg Terminal.
LEARN MORE