The Best, Worst, and Most Willie Horton Political Ads of 2014
By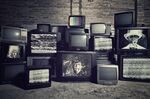 Each political ad is special in its own way, and the spectrum of humor, drama, Obama, inaccuracies, racial undertones and pure, unadulterated stupidity deserves to be recognized. And so, we've nominated these commercials from the 2014 midterm season for "awards" in eight categories.
The Viral Video Award
At the very bottom of the pecking order of viral videos—where clips from John Oliver's "Weekend Update" reign supreme—there's a space for entertaining political campaign ads. These are the ones you'd forward to your friends, even if they don't care about politics.
The Nominees
"Get Haugh" by American Future Fund (North Carolina Senate): This ad plays like a rejected "Saturday Night Live" digital short for a fake candidate, but Republicans hope that by increasing name recognition for the chill, pro-marijuana legalization libertarian candidate Sean Haugh, young Democrats will choose to "get Haugh, get high" instead of voting for Democratic Senator Kay Hagan. It helps that everyone in the ad actually seems high. 
"The Ballad of Dannie Goeb" by David Dewhurst (Texas lieutenant governor primary): Republican incumbent David Dewhurst tried to fight off his Tea Party challenger, Dan Patrick, by accusing him of changing his name to hide from a former bankruptcy. That's a "pants on fire" lie, according to Poltifact, and Dewhurst lost his primary, but at least the world got one more desperately needed "Frozen" tribute.
"What Rhymes with Alison Lundergan Grimes" by Mitch McConnell (Kentucky Senate): As early as July 2013, Senate Minority Leader Mitch McConnell was gearing up for his campaign against Democrat Alison Lundergan Grimes, so his team came up with this mess. The worst part about it—other than the fact that nothing in the video rhymes with Grimes, especially not "left wing mime"—is that, like all autotuned songs, it gets stuck in your head. 
Winner: "Get Haugh"
"More weed, less war."
The Backfire Award
Ideally, when you pay for an ad, you hope that it will help you (or your preferred candidate) get elected, not hurt or embarrass you.
The Nominees
"Skeet Shooting" by Alison Lundergan Grimes (Kentucky Senate): The message: Grimes is not President Barack Obama because she supports guns (hence the skeet shooting) and coal, but not the EPA. She also makes fun of McConnell. But it was McConnell who got the last laugh, when he tweeted photos of Grimes and Obama skeet shooting with the caption "Grimes = Obama." He had a point: Doing the same thing Obama did—going skeet shooting to show your support of guns—to prove that you're not like Obama is not an effective strategy.
"Guys" by NARAL Pro-Choice Colorado (Colorado Senate): Guys guys guys guys guuuuuuys—did you know that Republican Representative Cory Gardner will create a condom shortage and cause massive floods if he wins Colorado's Senate race on Tuesday? The group began a $450,000 ad campaign to air this dystopian young adult fan fiction on sports channels. This isn't going to help Democratic Senator Mark Udall shed his "Mark Uterus" nickname.
"Justice" by Wendy Davis (Texas governor): Yes, Republican Greg Abbott has ruled against people seeking justice, though he successfully sued after an accident left him paralyzed. But Democratic gubernatorial candidate Wendy Davis's ad left a bad taste in most people's mouths, especially when the empty wheelchair came on screen. It made her seem desperate, not right. 
"Advisor" by Eric Cantor (Virginia 7th District primary): In this ad, House Majority Leader—sorry, former House Majority Leader—Eric Cantor tried to paint his opponent, David Brat, as a liberal because he worked on former Democratic Governor Tim Kaine's Council of Economic Advisors. That didn't really work—if anything, he increased Brat's name recognition and helped him win.
Winner: "Justice"
Grimes's actual ad wasn't bad, even if it did leave her open to McConnell's tweet. And Mr. Uterus didn't actually pay for the ad—meanwhile, anything that promotes birth control is at least a little good for NARAL. Cantor's ad is silly, but in the grand scheme of things that cost him the Republican nomination, it's not that memorable.
Davis, on the other hand, took a fair point and presented it poorly. 
Best Positive Ad
Campaign ads don't have to be soul-crushingly negative. Sometimes, surprisingly, candidates actually have nice things to say about themselves, and they present these positive characteristics to inspire people to vote for them. 
The Nominees
"Beat" by Put Alaska First (Alaska Senate): Lisa Keller is a mother, a runner, and a breast cancer survivor who was denied health insurance because of a pre-existing condition. Thanks to a certain health-care law that Democratic Senator Mark Begich voted for—Obamacare, which is never mentioned in the ad—now she has insurance again. 
"Home" by Mitch McConnell (Kentucky Senate): After Noelle Hunter's husband kidnapped her daughter and took her to Mali, McConnell took an active role in getting her back, and met them at the airport. 
"Trust" by Monica Wehby (Oregon Senate): In this ad, Lexi Liebelt describes how Republican candidate Monica Wehby, a pediatric surgeon, saved her baby's life by reconstructing her spine after other doctors said they might have to terminate the pregnancy. It's not clear how that translates to political expertise, but Baby Liebelt is now 12.
"For Janey" by Kay Hagan (North Carolina Senate): Former marine Jerry Ensminger describes how Democratic Senator Kay Hagan helped pass a bill that provided medical care for families affected by contaminated water at Camp Lejune. He fought for the bill after his 5-year-old daughter died of leukemia brought on by the contamination.
Winner: "Trust"
Chris Cillizza at The Washington Post called "Trust" one of the best poltical ads of the year in April, and it's easy to see why. Halfway through the Wehby ad Liebelt starts crying, and for a brief moment the idea that politicians run for Congress to help people—not create gridlock—seems credible. Then you remember you're watching a campaign ad.
The Breakthrough Award
If you're an unknown candidate, you hope that a great introductory ad will win you endorsements, votes and lots and lots of campaign contributions. These are the most notable attempts at making a splash this year. 
The Nominees
"Gator" by Rob Manness (Louisiana Senate): Rob Manness is a conservative Republican running against Democratic Senator Mary Landrieu and Republican Representative Bill Cassidy. In the ad, he catches gators, as one does. "Here in Louisiana, you learn to be tough," he says. "One mistake and a gator might eat you alive." He got Sarah Palin's attention, but he's polling in the teens.
"When the Moment is Right" by J.D. Winteregg (Ohio 8th District primary): This ad is 60 seconds' worth of amazing Viagra/political jokes. Example: "Sometimes, when a politician has been in office too long, it goes to his head and he just can't get the job done." Get it? J.D. Winteregg lost his primary against House Speaker John Boehner and his job at a Christian university, but at least he got noticed.
"Squeal" by Joni Ernst (Iowa Senate): Republican Joni Ernst grew up castrating pigs on an Iowa farm and now she might become a U.S. senator. That's the American dream. 
"#GotBalls? Vote for Bob Quast" by Bob Quast (Iowa Senate): Bob Quast is the independent candidate in the race, and will forever be known as the man who smiled after uttering the following sentences: "If you are the sexual predator and sociopath who murdered my sister Lynette and you come to my front door to do harm to my girls, I'm going to use my Glock. To blow your balls off."
Winner: "Squeal"
Ernst has a good shot at victory. But if she does lose, here's one win she can brag about.
The Willie Horton Spirit Award
This award goes to the commercial that best embodies the spirit of the Willie Horton ad, the 1988 attack ad that derailed Democrat Michael Dukakis's presidential bid by painting him as soft on crime. The ad attacks a candidate for allowing dangerous criminals to harm innocent people and ideally, like the original, features a scary black person for the race-baiting factor. 
The Nominees
"Dennis" by RGA Colorado PAC (Colorado governor): This ad attacks incumbent Democratic Governor John Hickenlooper for his opposition to the death penalty. The governor granted a man on death row an indefinite reprieve, and said that he could grant him clemency if his possible successor threatened to execute him. The ad claims Hickenlooper threatened to set the man free (not true), and features the father of one of the murderer's victims calling Hickenlooper "a coward who doesn't deserve to be in office."
"Crime Scene" by Mark Begich (Alaska Senate): This ad attacks Republican Senate candidate Dan Sullivan, arguing that he allowed sex offenders to get off with light sentences as attorney general, leading to an offender murdering an elderly couple and raping their 2-year-old granddaughter. In the ad, a retired detective goes to the crime scene (hence the title) and points to where this happened. Begich had to take the ad down when the lawyer representing the victims family said it "was so shocking to them they now want to permanently leave the state as quickly as possible."
"Nikko" by the National Republican Congressional Committee (Nebraska 2nd District): Under the state's "good time" law, which reduces sentences for prisoners who follow the rules, Nikko Jenkins was released early, then almost immediate went on to murder four people. The ad features video of Jenkins, who is severely mentally ill, shouting in court, and shows his mugshot next to a picture of Democrat Brad Ashford. Ashford has argued against peeling back the "good time" law. GOP Representative Lee Terry even garnered some support from the ad after its release—Jenkins endorsed him in court last month. 
"Carr Brothers" by Sam Brownback (Kansas governor): This ad for Republican Governor Sam Brownback accuses his Democratic opponent of supporting "liberal judges" who let two murderers "off the hook." The Carr brothers, who went on a killing spree, had their death sentences overturned due to trial errors—they'll still spend the rest of their lives in jail. 
Winner: "Nikko"
The heart of the Willie Horton ad was its use of race, and the controversy that has followed it ever since. For that reason, while "Dennis" and "Crime Scene" both use exaggerated fearmongering, they don't quite live up to the standard of infamy. "Carr Brothers" is just boring.
"Nikko," on the other hand, is cut from the same cloth as the original. A former chair of the Republican National Committee said the ad "says something very racist" to present the argument in this frame. It's the clear winner. 
The Pants On Fire Prize
Many of the ads on this election cycle were at best misleading, and at worst factually inaccurate. But this award goes to the ad that is so factually wrong it's ridiculous, then funny, then depressing, to the point that it makes you lose faith in the integrity of the democratic process.  
The Nominees
"Loses" by Senate Majority PAC (Louisiana Senate): According to the ad, Republican Representative Bill Cassidy is in the pocket of the Koch brothers because they opposed a bill he sponsored? The Washington Post gave this "nonsensical" attack ad four Pinocchios. 
"Secure Our Border" by David Perdue (Georgia Senate): Democratic Senate candidate Michelle Nunn's leaked campaign plan said Republicans would try to say the foundation she once ran funded terrorists. That is, not surprisingly, false, but her opponent, Republican David Perdue, ran an ad on it anyway. 
"Crime Scene" by Mark Begich (Alaska Senate): Factcheck.org wrote that "in the end, we find that the Begich ad is misleading because it doesn't tell the full story of Active's 'light' sentence; it ignores the responsibility that other state agencies had in this tragic case; and it leaves the false impression that Sullivan was personally involved in the plea agreement."
"Julie's Story: It's Time to Listen" by Americans for Prosperity (Michigan Senate): Americans for Prosperity has spent millions on ad linking Democrats to Obamacare. But this ad, featuring Julie Boonstra, ended up emphasizing how misleading many of the fall's Obamacare ads were. In the spot she claims that Obamacare's out-of-pocket costs were unaffordable, but she was actually saving $1,200 a year. Whoops.
Winner: "Julie's Story"
It's easy to see why Americans for Prosperity didn't mention how much money Boonstra was saving in its ad on the financial hardships of Obamacare, but staying on message isn't an excuse for misleading people.
The Worst Ad of 2014
It's unfortunate that people wasted millions of dollars' worth of First Amendment rights on these ads. 
The Nominees
"Gary Peters Loan Sharknado" by the Michigan Republican Party (Michigan Senate): Democrat Gary Peters accepted money from convicted criminals, then gave the money back. That was the inspiration for this ad, which combines bad graphics, middle school art project narration, and a burping shark into 30 seconds of your life you won't get back. 
"Cliven Bundy Challenges Eric Holder" by Kamau Bakari (Nevada 1st District): Where to start? Cliven Bundy, the racist Nevada rancher who formed a small militia against the Bureau of Land Management, stars in a stilted ad featuring Kamau Bakari, the longest of longshot candidates for Nevada's second congressional district. At one point Bundy says "it's almost like black folks think white folks owe them something."
"Really?" by Terri Lynn Land (Michigan Senate): In the ad, Republican Terri Lynn Land says that Democrat Gary Peters has accused her of waging a war on women, hence the "really?" But instead of explaining why she's not anti-woman—i.e. something about reproductive rights or wages or anything—she asks the viewer to think about it and sips coffee while elevator music plays in the background. Yes, really.
"Say Yes To Rick Scott" by the College Republican National Committee (Florida governor): It's "Say Yes to the Dress," but all the "yes" dresses are named after Republican candidates and the frumpy mom picks are named after Democrats. Let's pretend for a second that this ad doesn't treat young women like the lowest of low-information voters. These ads fall into the bad-graphics, not-as-clever-as-the-creators-thought category. For fans of "Say Yes to the Dress," this likely doesn't even work as a riff of the show—both dresses are ugly. 
"Joni Ernst's Pledge" by NextGen Climate Action Committee (Iowa Senate): In this bizarre ad, two straight-to-DVD-movie bad guys chuckle in a dark room about how they bought Ernst and convinced her to ship Iowa jobs to China. It's not clear if this ad is serious or wants us to laugh—the allegations are serious, but the way the first bad guy says "Joni...signed...on...the line" suggests we should be laughing.
Winner: "Cliven Bundy Challenges Eric Holder"

If you're going to be endorsed by a man who has said black people lost their way when they stopped picking cotton, your ad should at least look it wasn't filmed on someone's flip phone and edited in iMovie.
The Best Ad of 2014
The best ads from the dullest election in years. 
The Nominees
"God Made a Trial Lawyer" by Ending Spending (Iowa Senate): "And then one day, God looked down on his planned paradise and noticed something was not right," begins the ad. "Did he need a trial lawyer?" This commercial has layers. It's inspired by a 2013 Super Bowl ad featuring a speech praising farmers (its refrain is "so God made a farmer"). It gets at Democratic Representative Bruce Braley's chicken dispute, but by alluding to the nobility of farmers it also ties in his remark that Senator Chuck Grassley is a "farmer from Iowa" with no law degree.
"At Ease" by Tom Cotton (Arkansas Senate): We talk a lot about gaffes, both real and imagined, in politics, but when Democratic Senator Mark Pryor said that Republican Representative Tom Cotton seemed to think he was entitled to the Senate because he served his country, despite his voting record, that was probably a mistake. And while Cotton could have gone negative, this playful ad with his actual drill sergeant just endeared him more to his base.
"Skeet Shooting" by Alison Lundergan Grimes (Kentucky Senate): How did this ad make the best ads of the midterm season list if it "backfired," you ask? Despite inadvertently using a play from Obama's playbook, the actual paints Grimes in a good light. She seems cool, confident, and obviously not Obama. If she loses, this will be something to remember her campaign by. 
"Squeal" by Joni Ernst (Iowa Senate): Everyone—from liberals rallying for a single payer health care system to conservatives who believe the U.N. wants to take over Iowa farms—can agree that this is a memorable ad. 
Winner: "Squeal"
Mother. Soldier. Conservative. Pig castrator. Senator?