Southwest Fights the FAA in Court Over a Maintenance Fine
By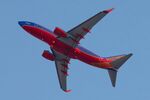 Southwest Airlines has decided to contest a $12 million fine assessed by federal regulators during the summer over how the carrier performed skin-sealing maintenance on nearly four dozen Boeing 737 aircraft.
The Federal Aviation Administration sued Southwest on Monday after regulators and the airline failed to reach an agreement on how to resolve the government's allegations about maintenance work on 44 jets the airline flew before and during 2009. The FAA proposed the $12 million fine in July over maintenance procedures that were not certified, relating to improper fuselage fasteners used by a Southwest contractor, and for having neglected to properly support the aircraft during that work. Part of the penalty also relates to two 737s that Southwest flew in 2012 with a separate maintenance issue the FAA says was not resolved according to regulations.
"The parties were not able to reach a compromise on the proposed civil penalties," the government said in a lawsuit filed on Monday in U.S. District Court in Seattle. The company that performed the fuselage repairs for Southwest, suburban Seattle-based Aviation Technical Services, is not a defendant in the lawsuit.
"We dispute the FAA's allegations and look forward to the opportunity to vigorously defend Southwest's record in a court of law," airline spokesman Chris Mainz said in an e-mail.
The airline has a history of disputes with FAA regulators on the issue of maintenance. In 2008, for example, Dallas-based Southwest paid $7.5 million to resolve what was then a record $10.2 million fine after the FAA concluded that the airline had operated some 60,000 flights on 46 planes that had not received mandatory repairs. That case also served as a major embarrassment for the agency when its inspector general discovered that FAA staffers overseeing the carrier had grown tight with company officials and were not performing appropriately.
Such penalties are relatively common across the industry. Airlines and the FAA typically negotiate lower settlements, and carriers pledge not to do it again. Litigation arising from civil penalties is less routine. Brandy King, a Southwest spokeswoman, said the decision to proceed to a U.S. lawsuit is not related to prior FAA enforcement situations.
Before it's here, it's on the Bloomberg Terminal.
LEARN MORE