Scotiabank Cuts 1,500 Jobs Amid Venezuela, Caribbean Charges
Stephen Morris and Keith Campbell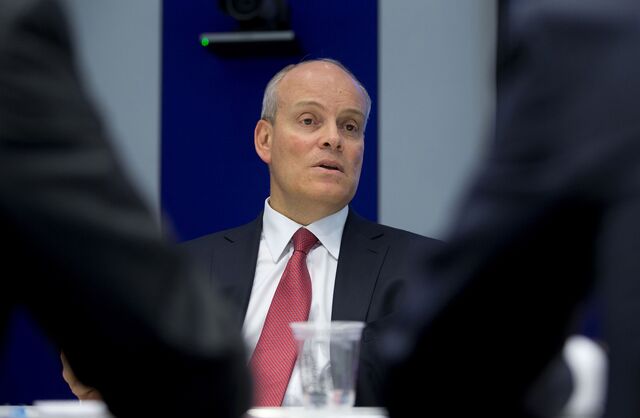 Bank of Nova Scotia, Canada's third-largest lender by assets, will take a C$451 million ($396 million) charge as it cuts about 1,500 jobs, writes down its investment in Venezuela and loans sour in the Caribbean.
Two-thirds of the job losses will be in Canada, including some head-office positions, the Toronto-based company said in a statement today. Scotiabank will also close or shrink about 120 international branches.
Scotiabank also said the charge, which will be taken in the fiscal fourth quarter, reflects a lower exchange rate used to value its stake in a Venezuelan lender and a policy change to accelerate write-offs of bankrupt consumer accounts in Canada. The lender, which has about 87,000 employees, is Canada's most international bank, with operations in more than four dozen countries in Latin America, the Caribbean and Asia.
"Notwithstanding these unusual charges, we remain confident that our 2014 reported results will be within our financial objectives for the full year," Chief Executive Officer Brian Porter said in the statement. "Today's announcement is a result of making some difficult but necessary decisions to support our long-term goals."
The charge will cut diluted earnings per share by 28 Canadian cents in the quarter and lower the bank's common equity Tier 1 capital ratio, a measure of financial strength, by 10 basis points. Scotiabank's adjusted earnings per share are expected to be C$1.40 in the quarter, according to the average of 13 analysts' estimates compiled by Bloomberg.
Cost Control
The bank expects to start saving C$120 million from the restructuring by 2016 as it reduces the need for operational support in its wealth-management unit and automates some branch functions. The charge is about C$341 million after tax.
The bank will hold a call at 8 a.m. Toronto time today to discuss the charges and job cuts. The company is slated to announce full-year results on Dec. 5.
"To some degree, we believe these charges demonstrate their commitment to cost control," Darko Mihelic, a banking analyst at RBC Capital Markets in Toronto, who rates Scotiabank outperform, said in an e-mailed note. "The issue now is whether or not they are still capable of generating high loan growth and whether or not loan losses are still contained."
Scotiabank said it will take a C$129 million writedown on its 26.6 percent stake in Banco del Caribe in Venezuela, where investors have speculated the government may devalue its currency or default on its debt.
Venezuelan Operations
Scotiabank said it has adopted "a revised exchange rate" for its Venezuelan operations, and will also incur a C$47 million charge to translate the value of the dividends it receives.
In Canada, Scotiabank said it will incur a C$62 million charge after adjusting its policy to speed write-offs in bankruptcy cases. In the Caribbean, Scotiabank expects C$109 million in extra loan-loss provisions, mostly due to three hospitality loans, it said.
Other charges include a C$55 million provision "related to certain ongoing legal claims in multiple business lines," and C$30 million for an adjusted estimate of its funding costs "related to uncollateralized derivative receivables," according to the statement.
Scotiabank has gained 3.5 percent this year in Toronto trading, the second-worst performance in the eight-company Standard & Poor's/TSX Commercial Banks Index and the laggard among Canada's six biggest lenders.
Scotiabank's shares fell after it posted a 16 percent drop in international banking profit in the quarter ending July 31, due in part to the weak Puerto Rico market. The lender is weighing a sale of its unit on the island, among the smallest and most troubled banking markets in the U.S., people with knowledge of the matter said last month.
Porter has said Scotiabank will keep its focus on Latin American markets such as Chile, Mexico, Peru and Colombia.
Before it's here, it's on the Bloomberg Terminal.
LEARN MORE