Rousseff's Banks Lure Brazil's Wealthy With Best Returns
Cristiane Lucchesi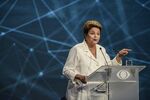 Brazil's government-owned banks are taking affluent clients from traditional wealth managers by offering low-risk bonds with unbeatable returns.
Banco do Brasil SA and Caixa Economica Federal are the biggest issuers of the tax-free securities, which are linked to agribusiness loans and mortgages. Issuance through Sept. 30 soared 50 percent to 285.3 billion reais ($114 billion) from a year earlier, data compiled by BM&FBovespa SA and Cetip SA show.
"A huge amount of money, billions and billions of reais, exited long-term investments such as equities and went to those tax-exempt bonds," Paulo Bilyk, chief investment officer of Rio Bravo Investimentos, which manages 10 billion reais, said in an interview in Sao Paulo. "That's where all this money is parked. It's an easy parking lot with high interest rates."
The bonds offer annual net returns as high as 9.9 percent, better than every other local fixed-income security and 34 of 35 funds analyzed by Anbima, the capital-markets association, for the 12 months through Sept. 30. Just one hedge fund in the survey had a return comparable to the bonds, though investors in that fund risk losing their principal, which would be triggered for the tax-exempt securities only in the event of non-payment by the issuing bank. The securities, which mostly carry floating interest rates, are called LCAs when linked to agribusiness loans and LCIs when backed by mortgages.
Higher Rates
Concern the economy might continue to stagnate during a second term under President Dilma Rousseff, who was re-elected last month, encouraged many investors to seek out lower-risk securities this year. The floating-rate securities became more attractive as Brazilian interest rates rose this year. The central bank increased its benchmark interest rate 25 basis points, or 0.25 percentage point, on Oct. 29 to 11.25 percent to control inflation, which reached 6.75 percent in September.
"We are diversifying our client base in order to reduce our risk of funding and also to give Caixa more economic and financial sustainability," Marcio Percival, the Brasilia-based bank's chief financial officer, said in a phone interview. He said LCIs are a convenient and cheap source of funding, providing higher returns for its mortgages. Caixa is the biggest mortgage lender in Brazil, with 68 percent of the market as of June 30.
Banco do Brasil declined to comment on its sales of the securities, citing a required quiet period before the publication of its third-quarter results.
Net Return
Clients with more than 10 million reais to invest can receive as much as 96 percent of the interbank rate, called DI, in securities sold by both banks, according to four people familiar with the matter who asked not to be named because the transactions are private. That generated a net return of 9.9 percent as of Sept. 30. Banco do Brasil offers daily liquidity for top clients, three of the people said.
For a competing fund to match that rate it would need to return 124 percent of the DI, assuming no management fees and an income tax of 22.5 percent, the rate for funds when held for 180 days or less, according to data compiled by Bloomberg. Typically funds with the highest returns charge the highest annual fees, sometimes more than 2 percent of the total invested.
Rio Bravo's Bilyk said the investments are hurting asset managers.
"Why would you run additional risk and pay somebody to manage risk for you when you don't need that to earn more?" he said. "The entire asset-management industry loses with that."
Growing Proportion
The tax-exempt bonds received 95 billion reais in new investments from Brazilians in the 12 months through September, compared with 7 billion reais for the fund industry, according to BM&FBovespa, Cetip and Anbima. The two types of bonds already represent about 11 percent of the total 2.67 trillion reais invested in funds in Brazil.
The main risk to investors is the issuer's credit, which for Banco do Brasil and Caixa is almost equal to the government's, because of the companies' state backing. Caixa and Banco do Brasil have the same foreign-currency long-term ratings as the Brazilian government, at Baa2 from Moody's Investors Service and BBB- from Standard & Poor's.
Banco do Brasil had 108 billion reais outstanding of bonds linked to agricultural credit and mortgages at the end of June, more than double the amount from a year earlier, according to its second-quarter financial statement. The firm is the nation's biggest agribusiness lender, with 157.2 billion reais in loans and guarantees outstanding as of June 30, an increase of 22 percent from a year earlier, according to its financial statements.
Caixa Mortgages
Caixa has 78 billion reais in bonds linked to mortgages, known as Letras de Credito Imobiliario e hipotecarias, a person with knowledge of the matter said. The total represents 15 percent of Caixa's funding. The bank's mortgages climbed 27 percent to 303.5 billion reais at midyear, according to its earnings statement.
Caixa sells its LCIs to individuals and also to other banks, funds and wealth-management firms, three of the people said. About 93 percent of the total issued went to Caixa's individual clients, one of the people said.
Banco do Brasil only sells its LCAs to wealthy clients who open an account with the bank, a strategy that helps it gain market share in the wealth-management business, three people said.
Lost Revenue
The tax exemption for LCAs and LCIs represents 5.8 billion reais in lost revenue a year to the government, according to data compiled by Bloomberg, based on a 9 percent return and the 22.5 percent income tax.
The securities' growth as a source of funding for banks also has an impact on the monetary base because those bonds don't trigger reserve requirements. Traditional bank bonds in Brazil, called CDBs, or certificates of time deposits, have a 20 percent reserve requirement. Total CDBs outstanding fell 7 percent to 557.9 billion reais in the 12 months through September, according to BM&FBovespa and Cetip.
"Those tax-exempt bonds are very useful tools to finance housing programs and will keep growing more in coming months and years," Caixa's Percival said.
Before it's here, it's on the Bloomberg Terminal.
LEARN MORE