Sweden's Riksbank Ready to Prolong Zero Rates as Next Step
Johan Carlstrom and Alessandro Speciale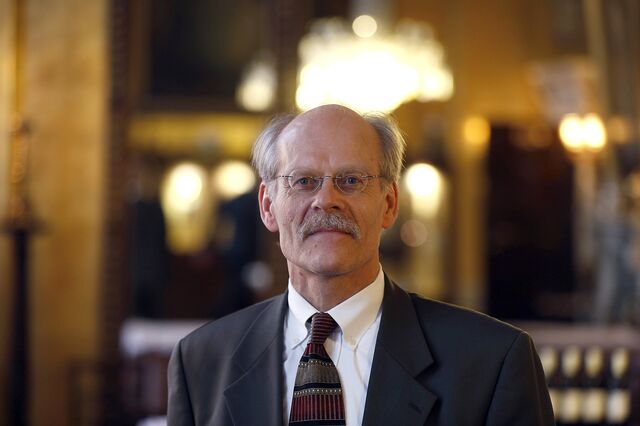 Sweden's central bank is ready to keep its main rate at zero for longer than its latest forecast suggests in an effort to fight deflation.
"We're pretty confident that this will be enough to increase inflation," Deputy Governor Per Jansson said in an interview in Frankfurt yesterday. "But if it isn't we could of course postpone the hike further, later than the current forecast that says we will make the first hike in mid-2016. We could postpone and then of course we have the same toolbox that everybody has in terms of unconventional measures."
The world's oldest central bank is struggling to persuade businesses, economists and consumers that it can deliver on its price mandate after Scandinavia's biggest economy sank into a deflationary spiral. The Riksbank's failure to spur price growth earned it the epithet "sadomonetarist" from Nobel Laureate Paul Krugman, who has repeatedly faulted the bank for unwinding stimulus too soon in 2010 and 2011.
"One clear next measure that we could take would be to delay the rate increase and perhaps also change the communication in how we look at the repo rate path, some kind of clearer communication," Martin Floden, deputy governor at the Stockholm-based central bank, said yesterday.
Last week, the bank predicted it will need to keep its repo rate at zero until the middle of 2016, when it predicts inflation will have reached its 2 percent target.
Riksbank Governor Stefan Ingves said in an opinion piece in newspaper Dagens Nyheter today that it was "good" that the decision to cut the main rate to zero received a lot of attention. "We want to send a clear signal that we are focused on the inflation target."
Currency Floor
The bank's missteps provide a cautionary tale to policy makers elsewhere as the U.S. Federal Reserve scales back its unprecedented stimulus measures and the European Central Bank delivers more support after realizing earlier steps proved inadequate to revive the euro area's economy.
In Sweden, consumer prices have fallen in seven of the nine months measured this year and inflation hasn't reached the central bank's target for almost three years.
Economists watching the Riksbank have speculated it may need to resort to unconventional measures including quantitative easing. SEB AB, Scandinavia's biggest krona trader, says the most effective tool the Riksbank could use beyond rate cuts would be a currency floor.
Jansson said the currency wasn't very strong right now and that there was "no case for intervention."
According to Floden, it's "not meaningful" to speculate on the possibility of non-standard steps at this point.
"We don't see that anything else is needed right now," he said. "If more is needed, what would be appropriate in such a case will depend on what kind of situation we're in then. There are pros and cons with all of these measures in terms of what you can achieve and what the costs are."
For the time being, the Riksbank's "view is that what we've done now is enough," Floden said. "Our forecast shows that inflation will start to rise pretty clearly in not too long."
Before it's here, it's on the Bloomberg Terminal.
LEARN MORE