Landrieu Pushes to Final Hour
The Louisiana Senate race could linger into December if no candidate wins outright on Election Day.
By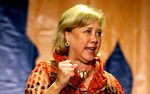 Louisiana Senator Mary Landrieu, one of the most vulnerable Senate Democrats in the 2014 midterms, campaigned into the final hours on Tuesday, hitting the pavement in New Orleans before 7 a.m. Landrieu hopped out of an SUV to meet a crowd of chanting volunteers and shake hands with construction workers at the New Orleans VA Hospital, which she helped fund by securing $350 million in federal money in 2011, campaign spokesman Will Dempster said. She greeted men in hard hats as others clad in neon yellow shirts bearing the slogan "I'm with Mary" chanted her name.
Polls show that Landrieu is unlikely to get the support she enjoyed in 2008, when a surge of Democrats turned out to vote for then-candidate Barack Obama. Since then, Louisiana has become increasingly conservative, with the majority of votes cast Tuesday expected to be split between two Republican challengers: Bill Cassidy and tea party favorite Rob Maness.  If no candidate gets more than 50 percent of the vote, the top two contenders will face-off again in a December runoff.  An Oct. 30 NBC News/Marist poll showed Landrieu with 44 percent support, Cassidy at 36 percent and Maness drawing 15 percent. The survey had a margin of error of plus/minus 3.9 percent. 
"She is the last standing statewide elected Democrat in the state whereas six years ago she was not," said Robert Hogan, a professor of political science at Louisiana State University in Baton Rouge. 
Wearing a yellow blouse and dark blue jeans as she patted supporters on the back and squeezed others' shoulders while speaking with them, Landrieu was hoping to inspire voters to the polls and avoid a likely runoff election with her top challenger, Cassidy.
"She needs a really strong African-American turnout and she needs to hope that some of the Republican voters are, for some reason, dispirited and don't turn out," said Sean Cain, a political analyst at Loyola University New Orleans.
Landrieu insisted that her supporters would come out again to back her candidacy like they did in 2008. After her stop at the hospital, Landrieu met supporters for an Election Day breakfast tradition at Betsy's Pancake House, where she embraced locals and ventured behind the counter to pick up and hold a waitress's daughter. 
"I've done this now for years and I know my state really well," she said. "I can feel it and we've got votes from the North, South, East, West."