JPMorgan Stands With Deutsche Bank on Chile Rate Bluff
Sebastian Boyd and Eduardo Thomson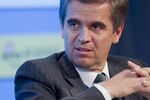 Most traders and economists who cover Chile's central bank are convinced it's brought the world's most aggressive interest-rate cuts to an end. Deutsche Bank AG and JPMorgan Chase & Co. disagree.
Gustavo Canonero and Vladimir Werning, the firms' respective economists, are the only forecasters among the 11 tracked by Bloomberg predicting more reductions in borrowing costs over the next year. Their view also contrasts with traders in the swap market, who are pricing in a more than 90 percent chance policy makers will keep rates unchanged in that span.
Banco Central de Chile President Rodrigo Vergara said Oct. 23 that the bank doesn't envisage more rate cuts with the economy poised to pick up and inflation at a five-year high. Deutsche Bank's Canonero predicts they will need to trim again next month as sluggish retail sales and manufacturing show the growth rebound isn't materializing. Chile has chopped rates 2 percentage points in the past 13 months, the most among 38 countries tracked by Bloomberg, to revitalize an economy heading for its weakest expansion since 2009.
"We don't feel enough is going to change for the central bank to feel comfortable that the economy is recovering," Canonero said by phone from Buenos Aires. "I know the central bank has been pretty explicit, even signaling that the easing cycle is over. The economy hasn't bottomed yet."
The central bank declined to comment on economists' opinions.
'Any Need'
"We have removed the bias in our monetary policy outlook, which basically means that the central bank doesn't see in the immediate future any need to give the economy any additional monetary stimulus," Vergara told economists at a central bank conference on Oct. 23.
Policy makers lowered the rate by a quarter-point to 3 percent on Oct. 16 as they sought to spur growth in an economy buffeted by a 8.9 percent slump this year in copper, Chile's biggest export. The Andean nation's gross domestic product will expand 1.9 percent in 2014, according to the median of 64 economists surveyed by the central bank.
Signs the economy continues to sputter emerged last week, when the government said retail sales shrank 0.9 percent in the 12 months through September. The median forecast of 17 economists in a Bloomberg survey was an 1.5 percent increase.
'Turning Point'
"While it is reasonable to expect that we're close to a turning point in the cycle, the timing isn't certain and downside risks linger," Werning, the head of Latin America research at JPMorgan, said by phone from New York. "These risks involve a further consumer slowdown near-term and a tepid pace of the economic recovery down the road, so the central bank has room to cut rates further."
He forecasts the central bank will lower rates in the first three months of 2015.
Two-year break-even inflation fell eight basis points to 2.51 percent today, down from 3 percent in September. Chile's peso weakened 0.6 percent to 586.04 per dollar at the close in Santiago.
Mario Robles, an economist at Commerzbank AG, said inflation that accelerated to 4.9 percent in September, above the central bank's target range, will keep policy makers from reducing borrowing costs again.
"There is evident weakness on the demand side, but Chilean monetary policy has always been characterized by a very careful, very vigilant central bank," he said by phone from New York. "The Chilean central bank always errs on the side of caution."
Deutsche Bank's Canonero said plunging oil prices will help curb cost-of-living increases in a country that imports 96 percent of its crude. He projects inflation will slow to 3.6 percent next year.
"The economy is still slow," he said. "I'm seeing a very pronounced contraction in consumption, and that will require more help from the central bank."
(Corrects headline and first paragraph of story published yesterday to remove reference to central bank "bluff.")
Before it's here, it's on the Bloomberg Terminal.
LEARN MORE