GPIF's Strategy Shift Means Adding $187 Billion to Stocks
Yoshiaki Nohara, Toshiro Hasegawa and Kana Nishizawa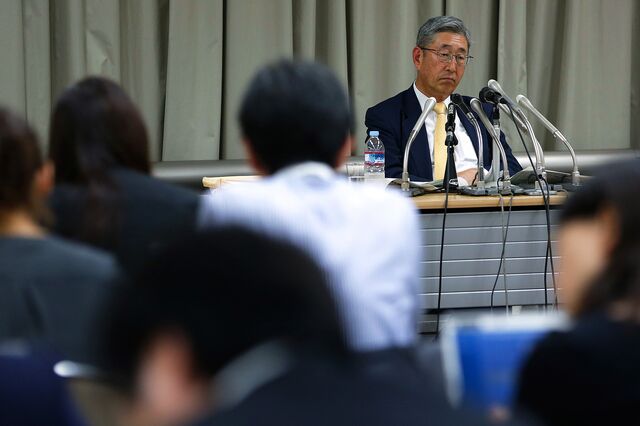 Japan's public retirement savings manager is set to pump $187 billion into stock markets across the globe as the world's biggest pension fund implements a new investment strategy aimed at enhancing returns.
The Government Pension Investment Fund will have to buy 9.8 trillion yen ($86 billion) of Japanese shares and 11.5 trillion yen of foreign equities to meet the asset-allocation targets it set last week, based on holdings in June. GPIF needs to cut 23.4 trillion yen of domestic debt, the data show.
The Topix index soared 4.3 percent Oct. 31 in anticipation of the allocations and on the Bank of Japan's unexpected stimulus boost, which included tripling purchases of exchange-traded funds. The measure jumped 2.6 percent today. The domestic bonds GPIF needs to pare could be bought by the BOJ in as little as two months. The fund will end up owning more than 6 percent of Japan's equity market once it completes the strategy shift, with that investment enough to buy everything listed in New Zealand, Greece and Morocco combined.
"If you consider the amount of money that's involved, this will probably have more impact on stocks than the BOJ's buying of ETFs," said Takashi Aoki, a Tokyo-based fund manager at Mizuho Asset Management Co. "We can expect material support for the market."
Investment Shift
Brokerages led gains among the Topix's 33 industry groups today, soaring 9.4 percent. The broader gauge posted the highest close in six years, while the Nikkei 225 Stock Average traded above 17,000 for the first time since 2007 before paring gains.
GPIF will put half its assets in equities, equally split between Japanese and foreign markets, according to targets published Oct. 31 after markets closed. That's up from 12 percent each under the fund's previous strategy. The announcement came just hours after the BOJ expanded easing, saying it will buy 8 trillion yen to 12 trillion yen of sovereign debt per month.
The pension manager allocated 35 percent of its holdings to domestic bonds, down from 60 percent, and boosted foreign debt to 15 percent from 11 percent. The new figures don't include a target for short-term assets, while the previous ones did.
The calculations for additional investment are based on GPIF's holdings as of the end of June, which consisted of 17 percent in local shares, 53 percent in domestic bonds, 16 percent in foreign equities, 11 percent in overseas debt and 2 percent in short-term assets.
GPIF, which provides quarterly updates on its asset split, didn't say last week whether it had already started adjusting holdings to meet the new strategy. Japanese investors bought about 3 trillion yen of equities outside their home market from June 27 through Oct. 24, according to Finance Ministry data compiled by Bloomberg.
Before it's here, it's on the Bloomberg Terminal.
LEARN MORE