Hyundai, Kia Shares Sink After Record Settlement With U.S.
by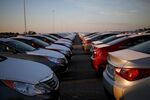 So much for taking advantage of a competitor's airbag scandal.
At a time when rivals are struggling with recalls, Korean automaker Hyundai Motor and its affiliate Kia Motors are facing embarrassing headlines that won't do much for their reputations among American consumers. The companies on Monday agreed to pay a record penalty for fudging the statistics displayed in dealer showrooms across the U.S. Hyundai and Kia will shell out a combined$350 million to settle claims that they tricked customers by overstating fuel economy numbers and understating greenhouse gas emission figures.
"All consumers have the right to know that the cars they buy actually have the characteristics that are represented to the [Environmental Protection Agency]," Attorney General Eric Holder said in a statement — "a basic compact that Hyundai and Kia flagrantly violated in this case."
Hyundai Motor America President and Chief Executive Officer David Zuchowski released a statement saying that the company "has acted transparently, reimbursed affected customers and fully cooperated with the EPAthroughout the course of its investigation." Others aren't so pleased. Hyundai's stock fell 3 percent to a 52-week low, taking its year-to-date decline to 34.5 percent. Kia shares hit a 52-week low, too, and are off 12.5 percent since the year began.
As the Korean companies struggle, their biggest Japanese rival seems to be weathering the airbag controversy for now: Toyota shares on Tuesday jumped 4.65 percent, to a 52-week high.
The settlement with the feds is just Hyundai's latest legal setback. A Montana judge ruled in September that the company must pay punitive damages of $73 million to the families of two teenagers who died after a crash blamed on a steering defect in a Hyundai Tiburon. The Korean automaker, which must also pay the jury's award of $8.1 million in actual damages, had tried to get the judge to reduce the punitive damages verdict. In a rebuke to Hyundai, Judge Deborah Kim Christopher said Hyundai showed "an indifference to or reckless disregard of the health and safety of the motoring public." Hyundai has said it will appeal the ruling.
Perhaps even more worrisome than the American legal challenges is the currency volatility closer to home. Korean automakers are suffering from the renewed currency weakness of Japan, home to many of their toughest competitors. Japan's yen, which traded around 102 to the dollar from February to mid-August, closed on Tuesday in Tokyo above 113 to the dollar. This followed a surprising announcement by the Bank of Japan of additional stimulus, particularly weakening the currency and helping exports by Toyota, Honda, and Nissan become more competitive.
Korea's won has risen 5 percent against the yen since the start of the year. "While investors expected Q3 to be bottom for Korean companies' earnings, the outlook for recovery from Q4 looks less likely as weak yen erodes big exporters' price competitiveness," KTB Asset Management fund manager Lee Jin Woo told Bloomberg News.
Even before the latest plunge by the yen, Hyundai Motor sales in the third quarter were 21.3 trillion won, about 2 percent higher than the same period in 2013. Hyundai sold 1.18 million vehicles, up from 1.15 million in the third quarter last year. Yet Hyunadai isn't making as much money on those sales. The company's profit picture was much worse than its top-line results: Quarterly earnings fell 29 percent, to 1.52 trillion won ($1.4 billion).
Before it's here, it's on the Bloomberg Terminal.
LEARN MORE